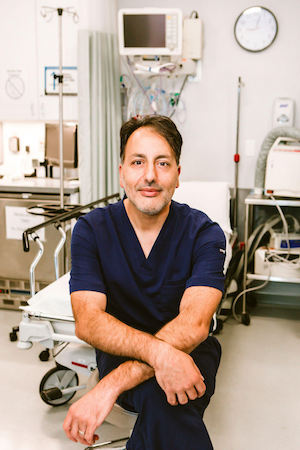 Dr. Hootan Zandifar is a Board Certified Plastic Surgeon, as well as an Ear Nose and Throat Specialist. Dr. Zandifar obtained his medical degree from the David Geffen School of Medicine at UCLA. Dr. Zandifar is a board-certified diplomat of the American Board of Otolaryngology – Head and Neck Surgery and is a Fellow of the American Academy of Facial Plastic and Reconstructive Surgery and the American College of Surgeons. Dr. Zandifar has undergone years of training and has worked along side with the best plastic and reconstructive surgeons in the world. He is able to pass his expertise on to his own patients by offering the best and most advanced treatments available.
Dr. Zandifar serves as the Founder and Director of Zandifar M.D. located in Beverly Hills. In addition, Dr. Zandifar practices plastic and reconstructive surgery at the Derm & Rejuvenation Institute, where he partners with his good friend and Dermatologist, Dr. Tanya Kormeili.
Dr. Zandifar is well respected among his peers and is extensively published in peer-reviewed articles including Laryngoscope, ENT Journal, Journal of Pediatric Otolaryngology, Brachytherapy, Journal of Pediatric Otorhinolaryngology and the Journal of Investigative Medicine. Dr. Zandifar is a well known lecturer and speaker. His most recent and notable lectures were held at the Plastic Surgery Advances and Otolaryngology Symposium.  The Annual American Academy of Facial Plastic and Reconstructive Convention, and the Triological meeting.
Dr. Zandifar's philosophy incorporates his belief in "natural looking plastic surgery."  His approach is to restore every patient's anatomy and natural appearance.  Patients appreciate his non-aggressive and gentle approach that creates natural and youthful results.
Dr. Zandifar is a proud father of two, a devoted husband, and a true humanitarian. Dr. Zandifar has traveled to India, Peru, Belize and Ethiopia to serve populations who, without his service, would not have received medical care. He is kind and generous with his time and his healing hands. He looks forward to meeting you and helping you address your concerns.