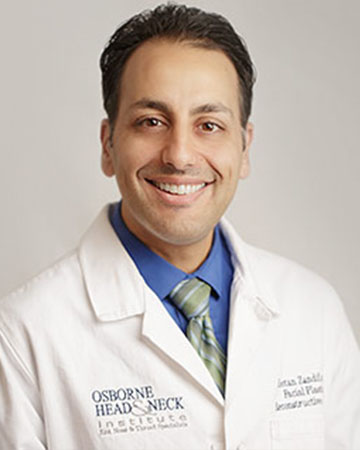 Dr. Hootan Zandifar is a Board Certified Plastic Surgeon, as well as an Ear Nose and Throat Specialist. Dr. Zadifar is a double graduate from UCLA with a B.S. in Physiological Science, and his his medical degree from the prestigious David Geffen School of Medicine at UCLA. Dr. Zandifar is a board-certified diplomat of the American Board of Otolaryngology – Head and Neck Surgery and is a fellow of the American Academy of Facial Plastic and Reconstructive Surgery the American College of Surgeons. He has received extensive and rigorous training under the tutelage of world-famous plastic and reconstructive surgeons, enabling Dr. Zandifar to provide the best and most advanced treatments available.
He serves as the Director of the Skin Center and a facial plastic and reconstructive surgeon at the Osborne Head and Neck Institute. He also practices plastic and reconstructive surgery at the Derm & Rejuvenation Institute, where he provides the latest techniques in plastic surgery alongside Dr. Kormeili, dermatologist.
Dr. Zandifar is well respected along peers and is extensively published in peer-reviewed articles including Laryngoscope, ENT Journal, Journal of Pediatric Otolaryngology, Brachytherapy, Journal of pediatric otorhinolaryngology and Journal of Investigative medicine. Dr. Zandifar has served as a speaker and expert in various plastic surgery meetings including the Annual American Academy of Facial Plastic and Reconstructive meeting, Combined Spring Otolaryngological Meeting and Triological meeting.
Dr. Zandifar specializes in "natural looking plastic surgery," where every patient's anatomy and natural appearance is restored but not drastically altered as a result of his surgery. Patients appreciate his non-aggressive and gentle approach that creates natural and youthful results.
In 2012, Dr. Zandifar made the list of Best Plastic and Cosmetic Surgeons. Dr. Zandifar was recognized among Super Doctors® 2013, and made the Southern California Rising Star℠ List. Again that year, he was nominated for The Leading Physicians of The World publication. He has been voted Top Plastic Surgeon in Beverly Hills, CA by International Association of Healthcare Professionals. Dr. Zandifar was awarded the Walter P. Work, M.D. Award for outstanding performance in Otolaryngology/Head and Neck Surgery.
Dr. Zandifar is a proud father of two, a devoted husband and a true humanitarian. Dr. Zandifar volunteers annually to serve the underserved internationally as part of various medical missions. He is kind and generous with his time and his healing hands. He looks forward to meeting you and helping you address your concerns.