Forehead Lines
Conveniently located to serve the areas of Santa Monica and Los Angeles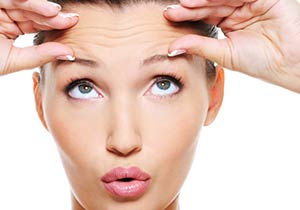 If you want to remove forehead wrinkles, you are not alone! Forehead wrinkle causes include facial expression, stress, smoking, excessive sun damage and of course, aging.
For decades the family of neuromodulators such as Botox, Dysport, and Xeomin have been used to treat deep forehead lines and smooth forehead wrinkles. Some patients, realizing the role of muscles in damaging the skin, start treatment before deep forehead wrinkles are set. Botox can not only be used to remove forehead wrinkles, it can be used prophylactically to prevent deep forehead wrinkles from becoming an issue. The rule of thumb: if your facial expression cause lines to form, it is time to relax those muscles or you can develop deep forehead wrinkles!
Careful attention must be paid to correcting forehead lines based on the patient's anatomy. The frozen face is never nice; neither are droopy eyelids in an effort to remove forehead wrinkles. Some patients are simply not candidates for Botox treatments based on their forehead anatomy and proportions. This is why an initial consultation with Dr. Tanya Kormeili is needed before any treatment is performed on our patients.
We look forward to seeing you at our Santa Monica office and helping you achieve your desired outcome. Make your appointment today!
Before & After
Click To Make An Appointment