EMSCULPT
Conveniently located to serve the areas of Santa Monica and Los Angeles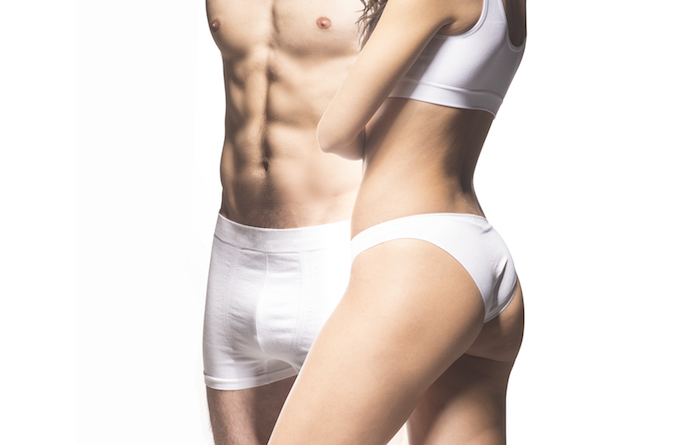 EMSCULPT is a revolutionary new treatment that uses HIFEM (High-Intensity Focused Electromagnetic) technology to induce muscle growth in the treatment areas. FDA-cleared to burn fat and build muscle mass, EMSCULPT represents the next stage in the evolution of body sculpting procedures.
Build Muscle, Burn Fat, Feel Ravishing
Everyone can use a little help getting over that final stumbling block to their aesthetic goals. You can maintain a nutritious diet, engage in regular exercise, and yet that toned, washboard stomach still eludes you. Everyone's body has areas that like to collect fat. If that area on your body is your abdomen, thighs or buttocks, you might feel stymied in trying to achieve your goals. EMSCULPT offers a proven, powerful solution that shaves off excess fat and builds muscle mass. With an innovative electromagnetic process, EMSCULPT can achieve gorgeous results that can't be accomplished solely through hard work and diligent effort.
Dr. Tanya Kormeili, founder of the Derm & Rejuvenation Institute, is a board-certified dermatologist and Clinical Professor of Dermatology at UCLA. She maintains a commitment to deliver the highest quality care to her patients. Dr. Kormeili proudly introduces safe, clinically proven body contouring procedures to her practice. To learn more about the types of treatments we offer, follow our blog.
Discover if EMSCULPT can help you achieve the physique you dream about by scheduling a consultation with Dr. Kormeili. You can reach our Santa Monica office at (310) 526-8301.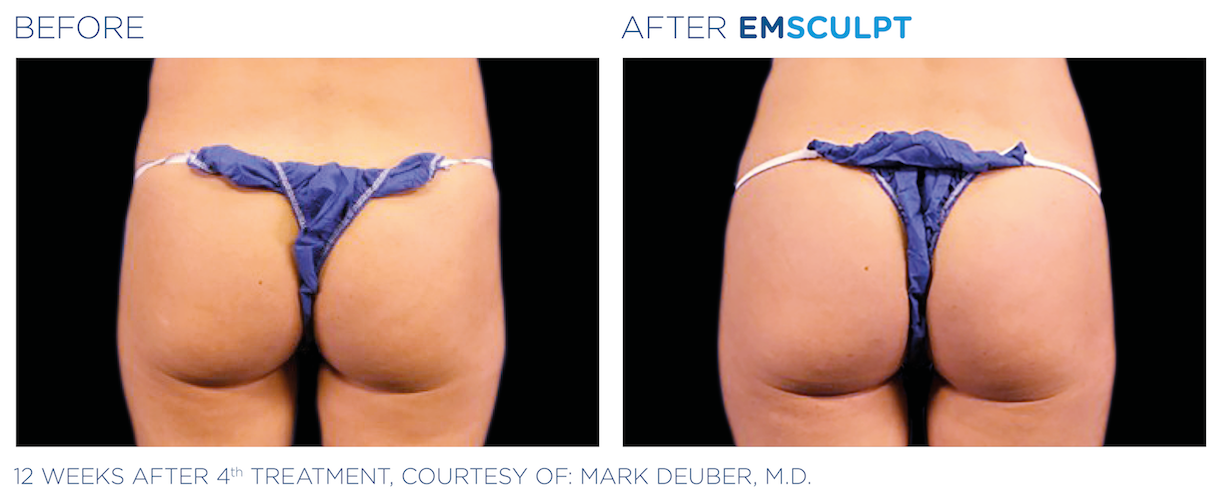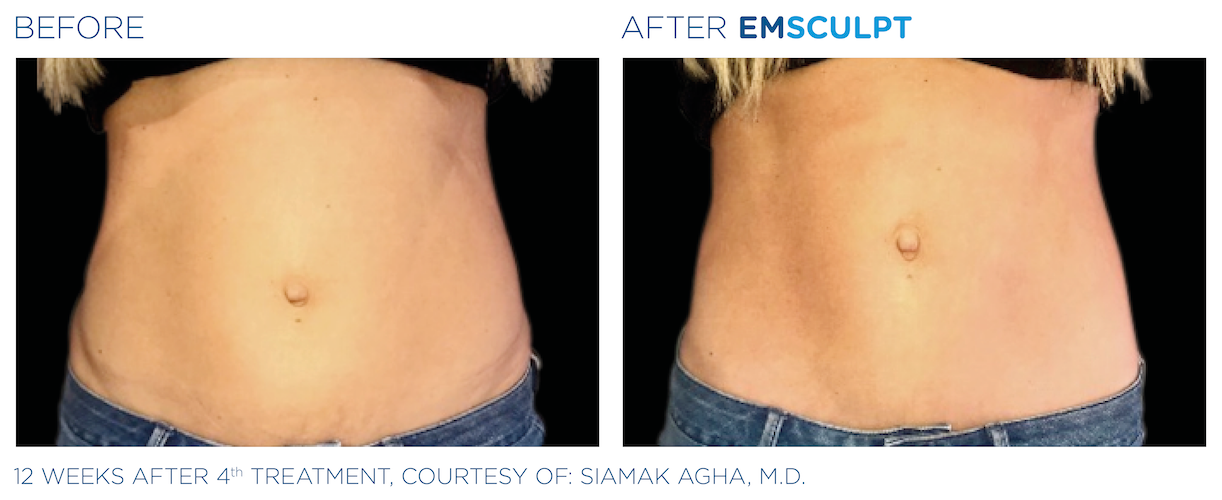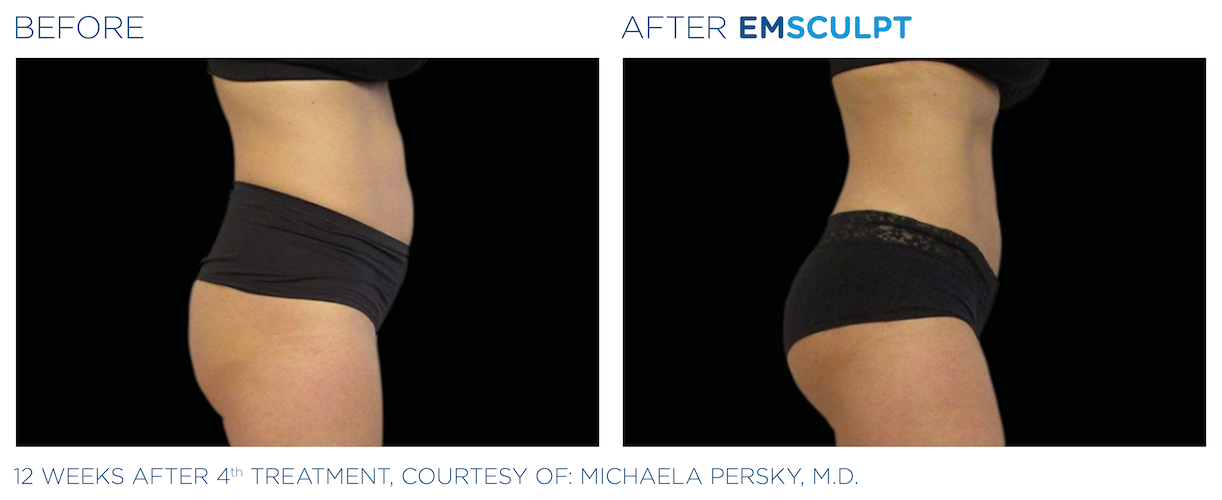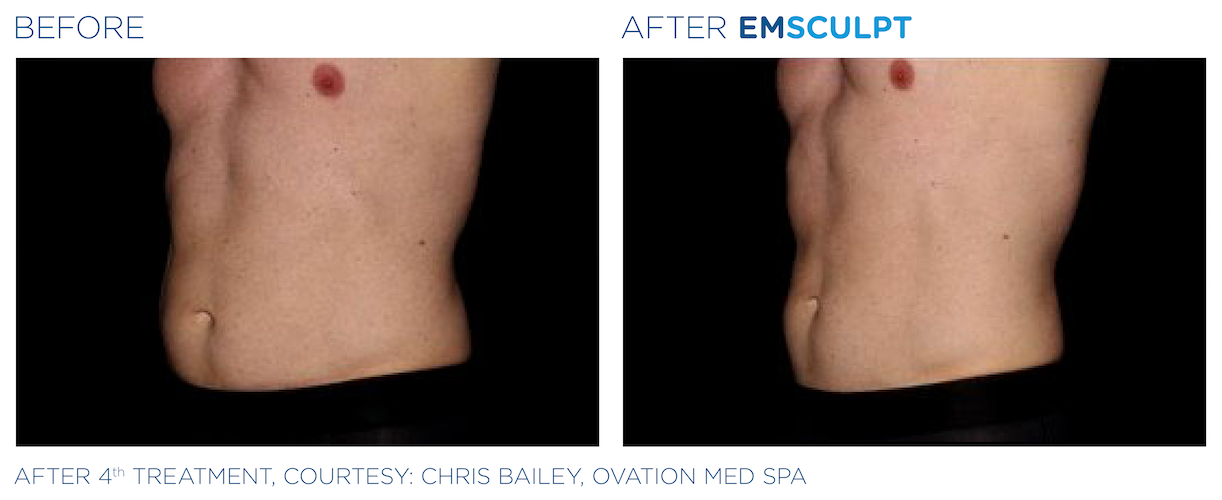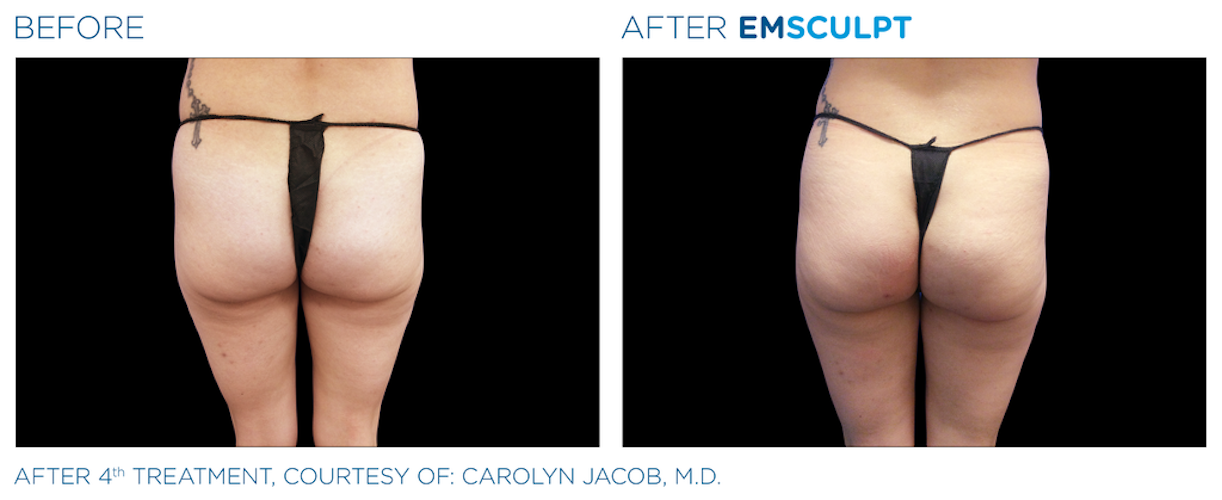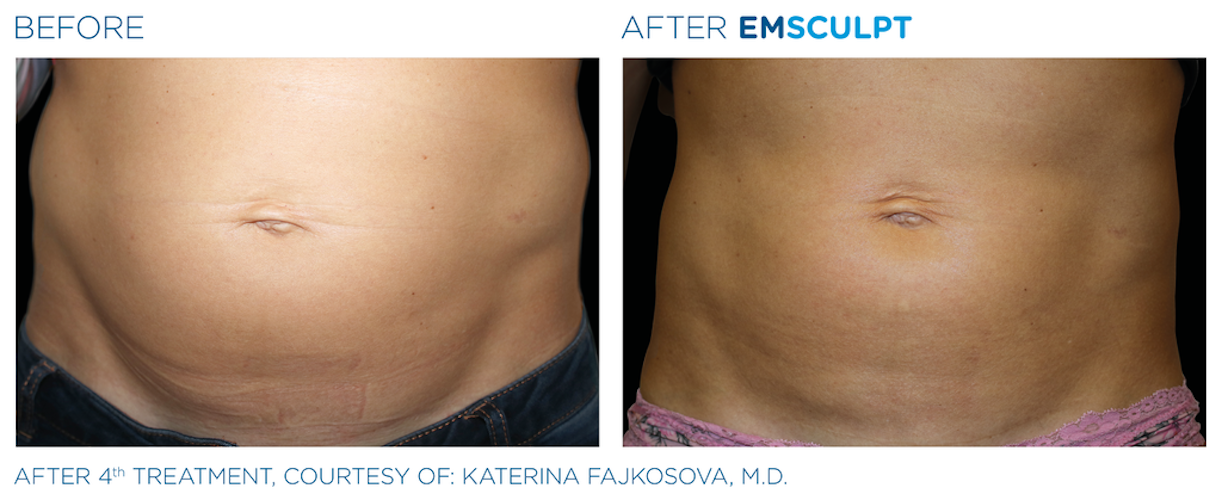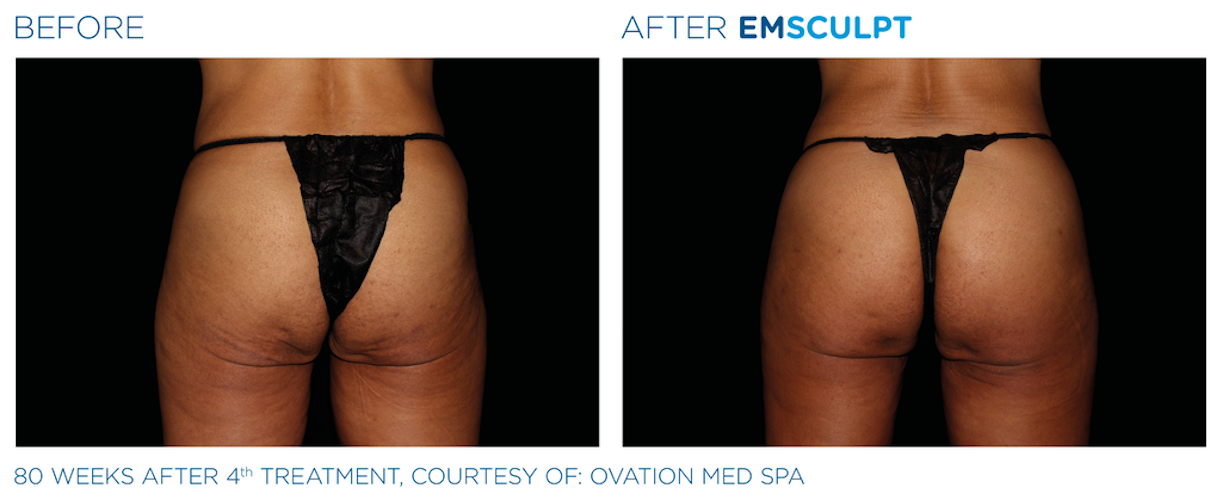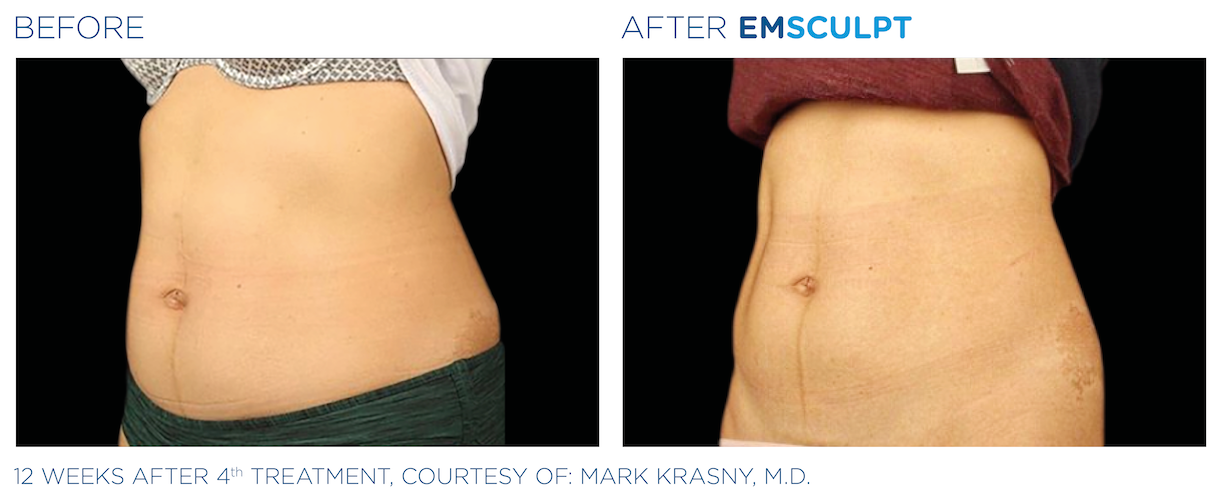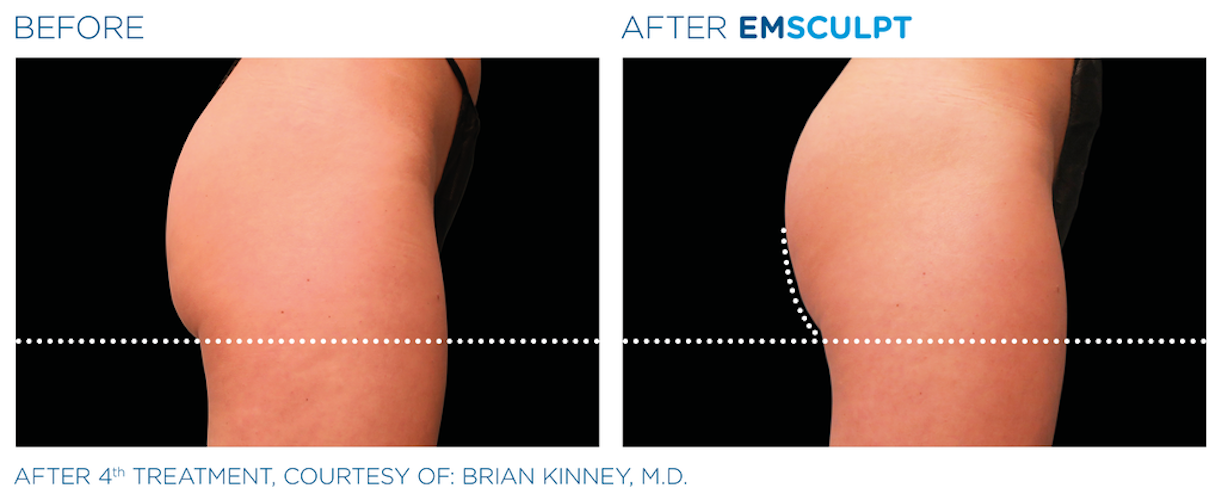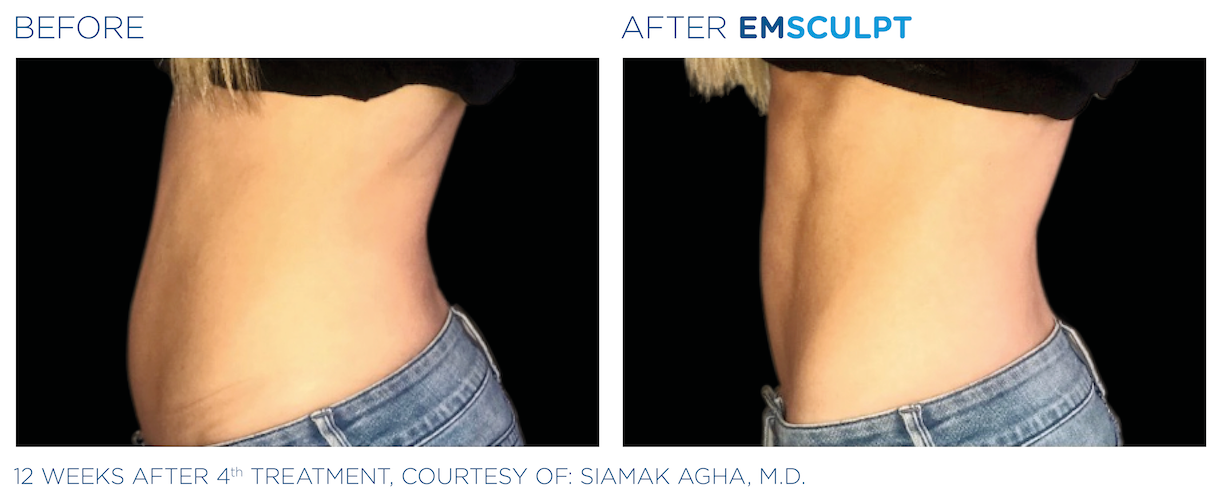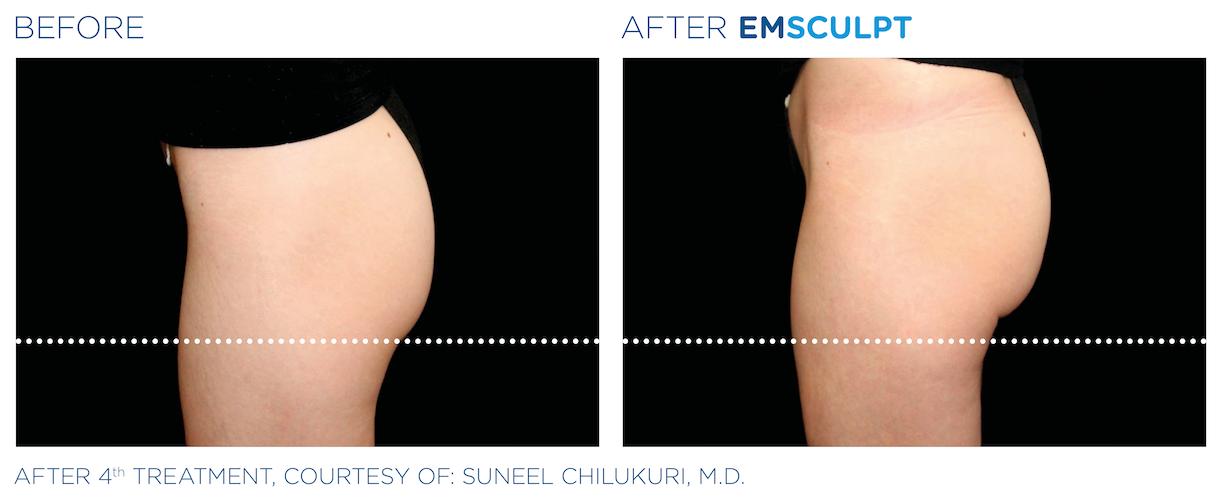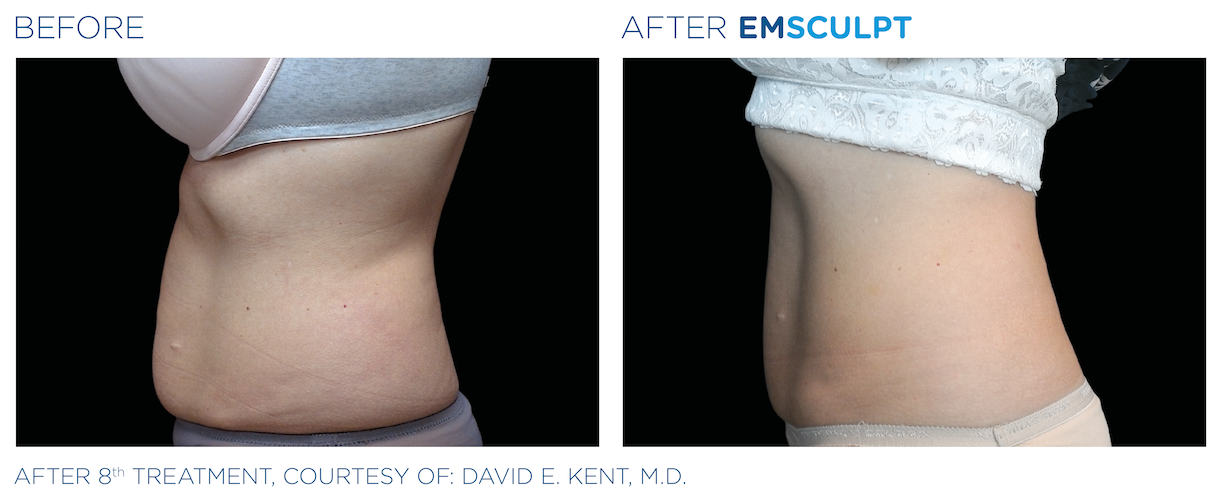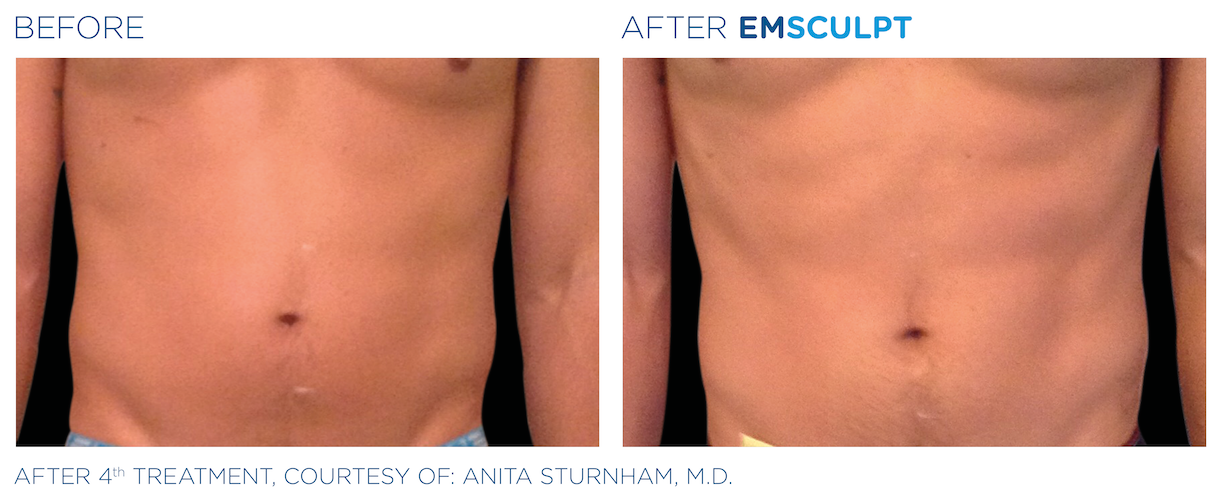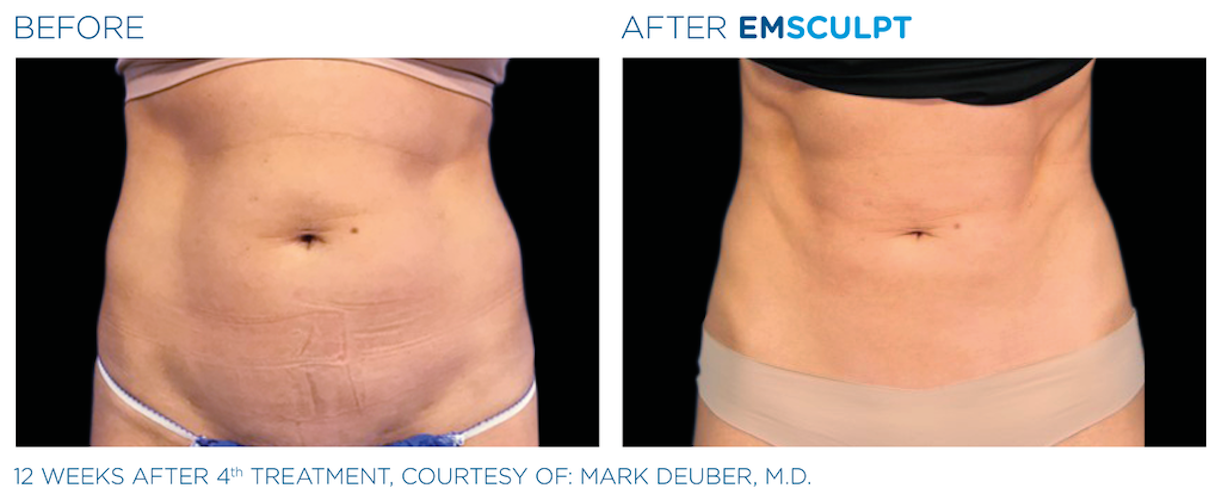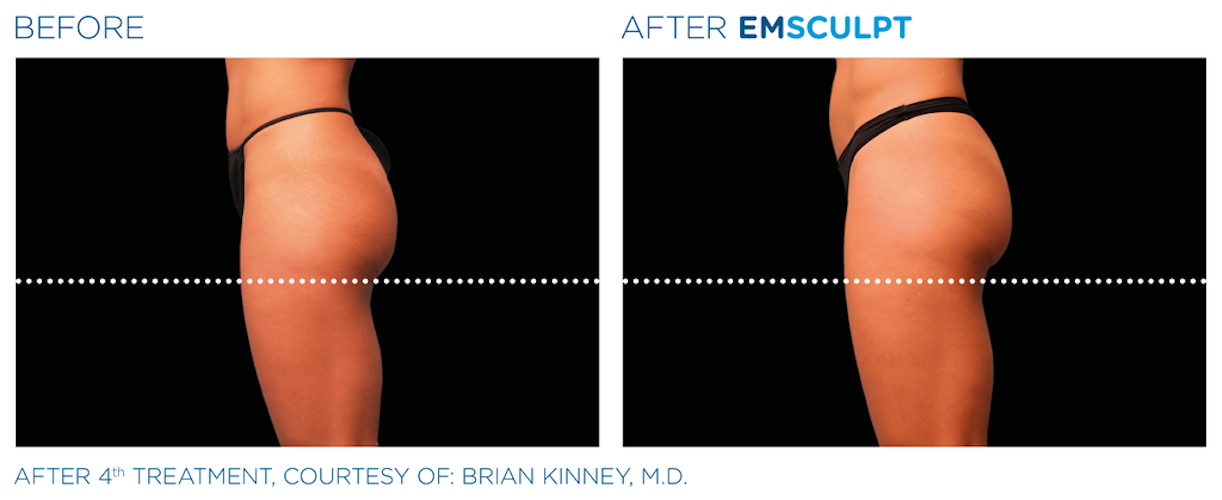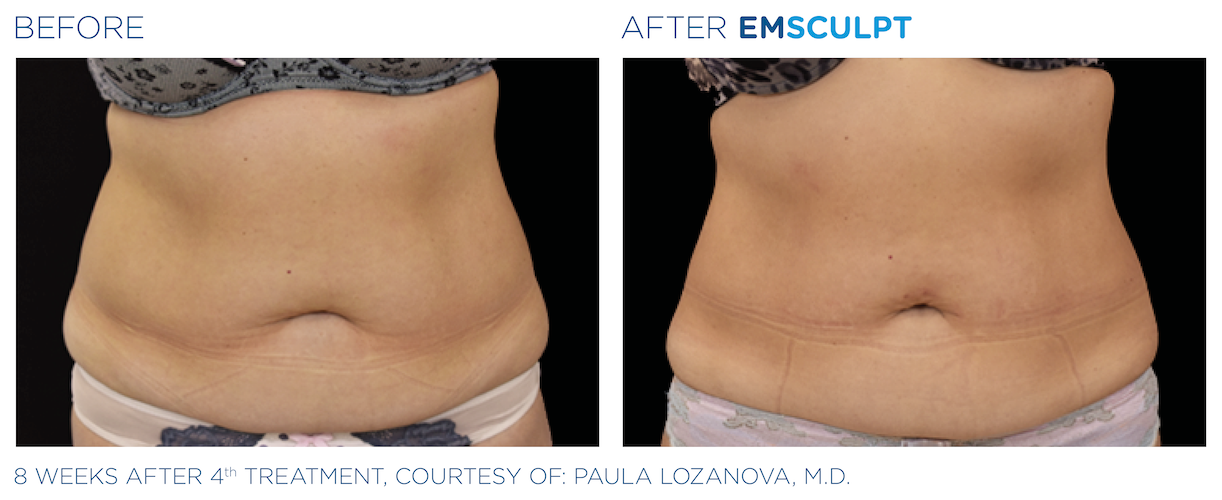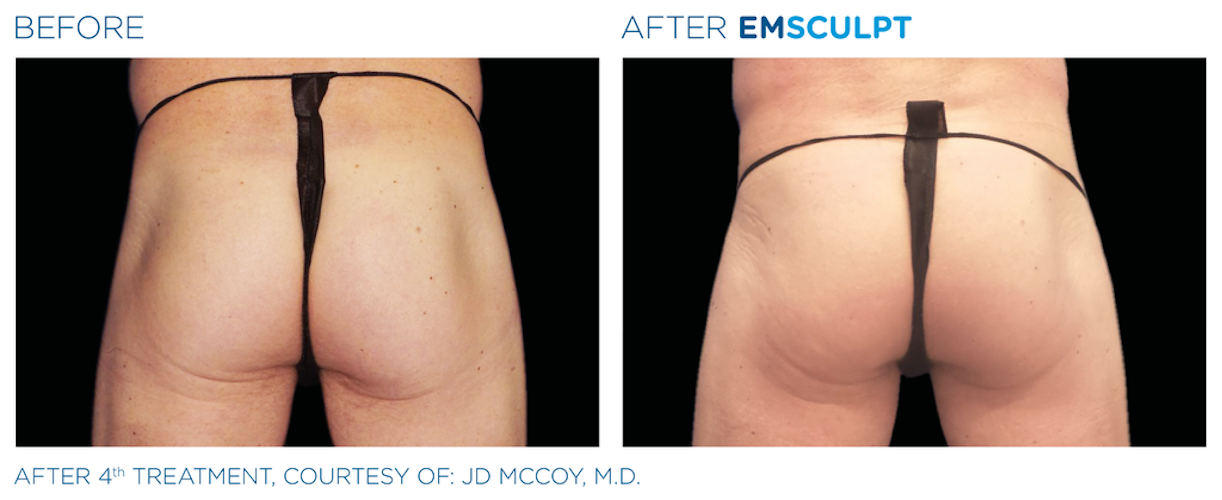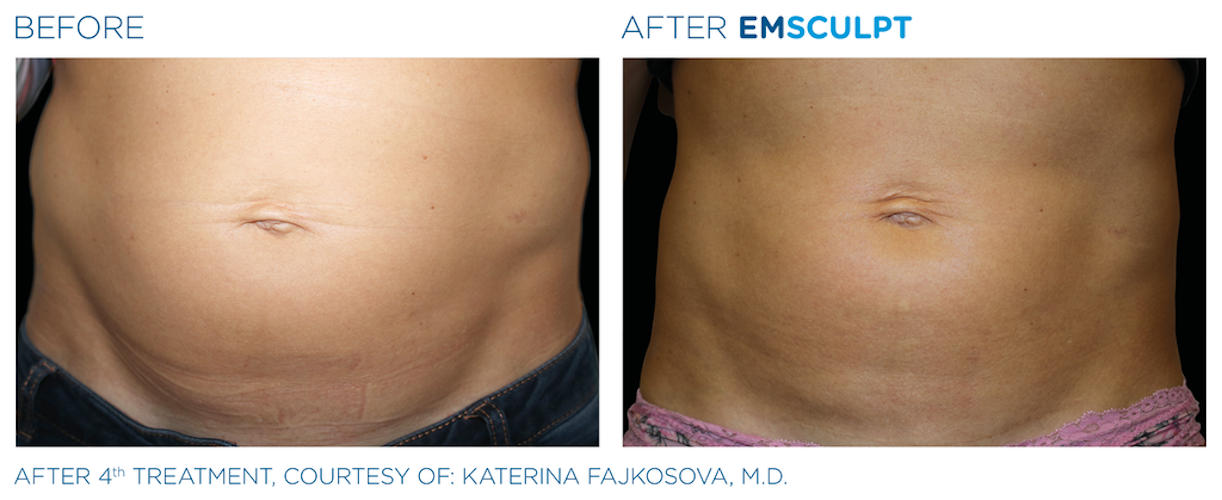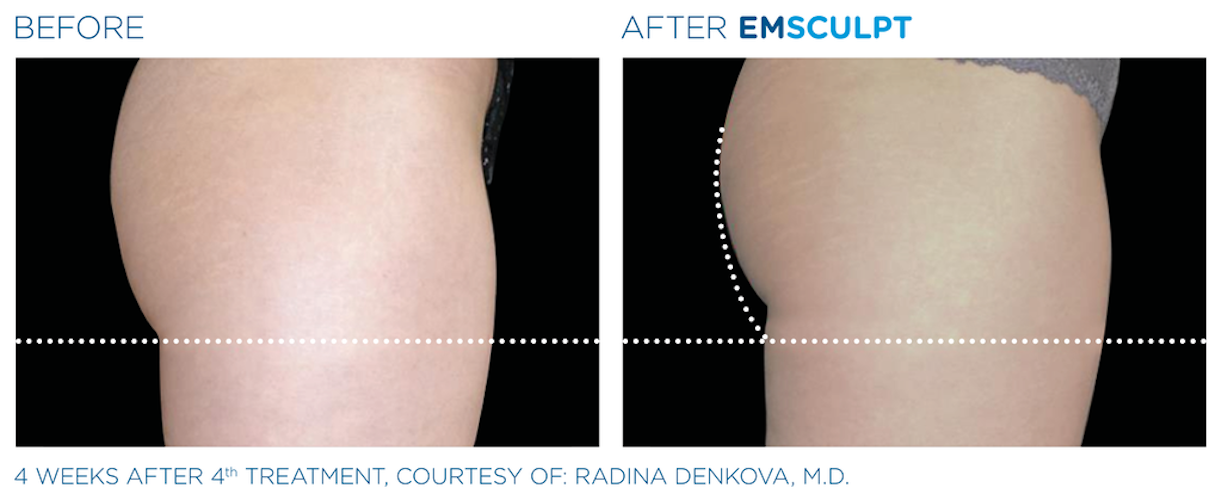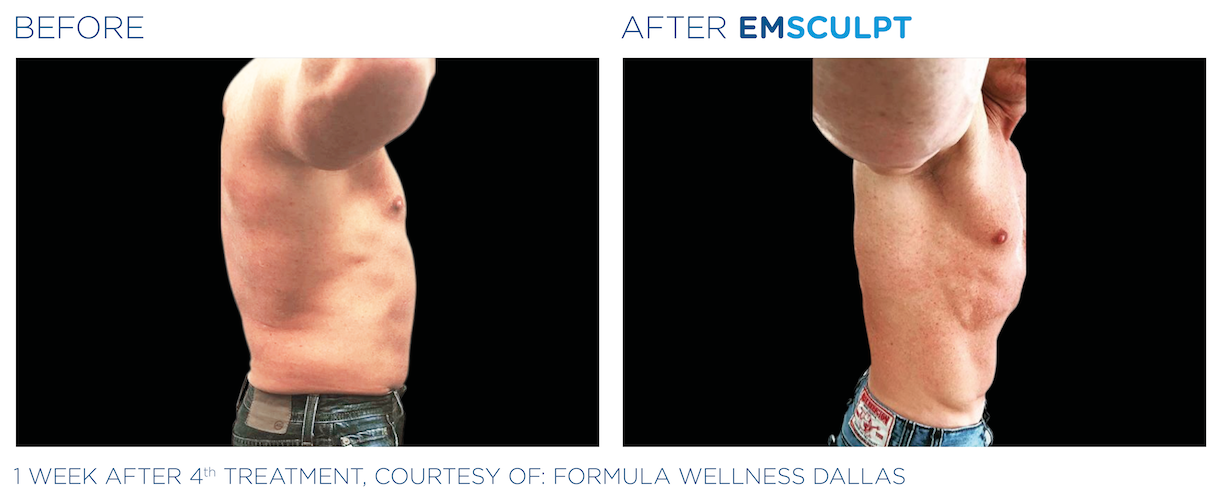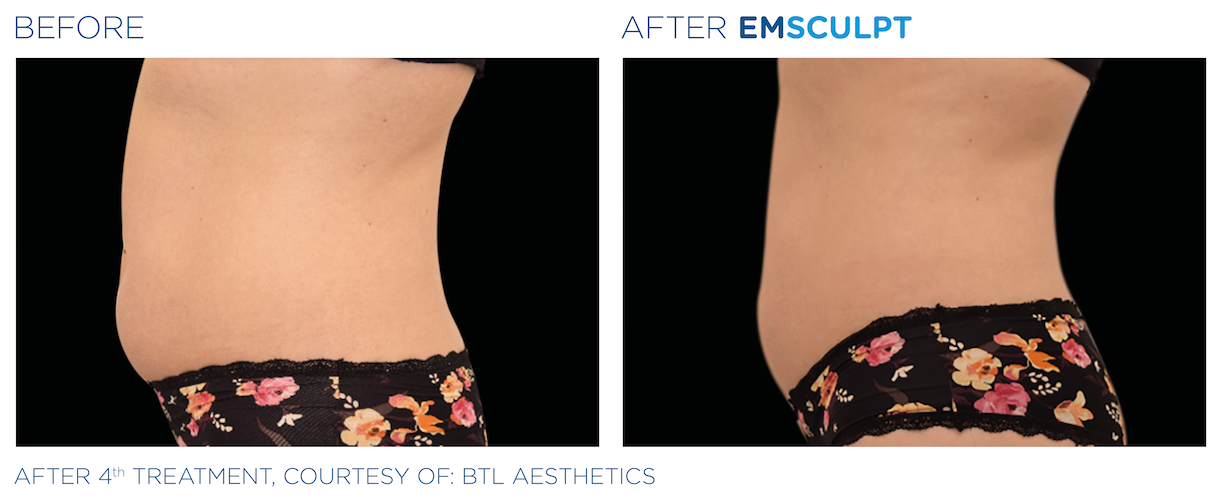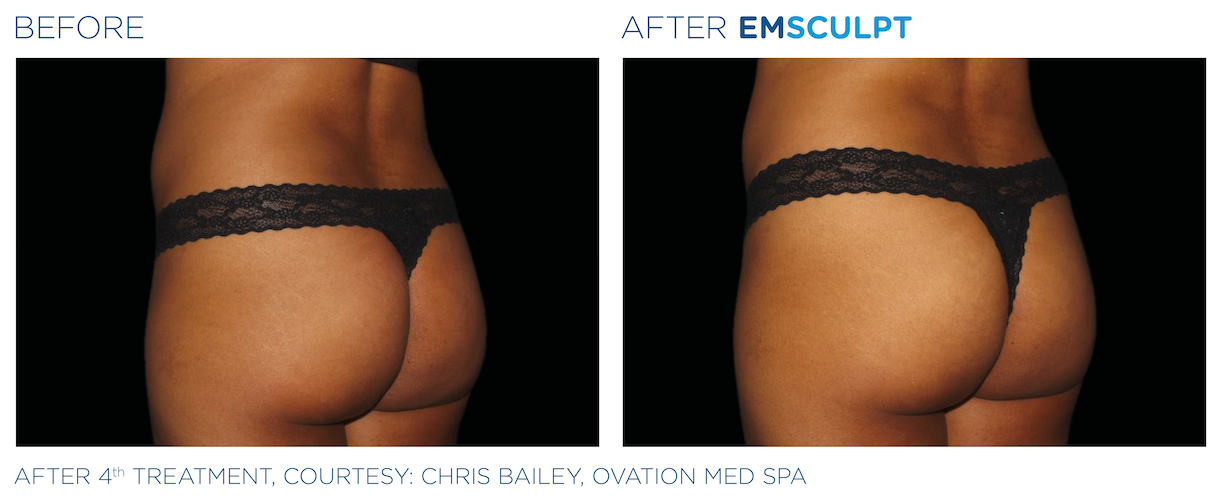 About EMSCULPT in Santa Monica
EMSCULPT is a non-invasive procedure that uses a special process called High-Intensity Focused Electromagnetic (HIFEM) to deliver energy to the target area. The electromagnetic energy causes your muscles to intensely contract. These intense muscular contractions, called supramaximal contractions, burn fat while they increase muscle growth in the desired area. This technology has been used abroad to administer physiotherapy for people who need to strengthen certain muscle groups.
Clinically tested: EMSCULPT achieves an average of 16% muscle increase with an average of 19% fat reduction.[1]
Each treatment with EMSCULPT causes 20,000 powerful muscle contractions, beyond what anyone can accomplish on their own in any workout session. The device has a built-in release for the lactic acid from the muscles to prevent pain and soreness from the treatment.
THe EMSCULPT process creates muscle fatigue in the treatment area. As with manual workouts, the body must repair the muscles. The breakdown and repair process creates stronger and more defined muscles. Your body will begin to eliminate fat and build muscle beyond what is possible through physical training alone. This results in better muscle tone and enhanced fat metabolism post-treatment.
Benefits
Non-invasive
No downtime
No anesthesia
Safe for all skin types
Efficient with only 30 minutes of treatment time
Non-thermal
Non-ionizing
No radiation
Suitable Candidates
An ideal candidate for EMSCULPT is anyone who wishes to build muscle tone for their abdomen, thighs, and/or buttocks as an enhancement to a healthy lifestyle.
Areas of Treatment
Butt lifting and tightening (saggy butt treatment)
Abdominal muscle strengthening
Postpartum diastasis recti (stretching of the muscles to separation as a result of pregnancy)
Inner thighs strengthening
Biceps muscles strengthening
Triceps muscles strengthening
Calf muscle strengthening
Who is Not a Candidate for Treatment?
Not suitable for patients with metal implants
Not suitable for women with metal IUDs
Your Personal Consultation with Dr. Kormeili
During every consultation, Dr. Kormeili wants her patients to feel less stressed when they leave her office than when they entered, secure in the knowledge that they have a medical expert on their side. She treats her patients the way she would like other doctors to treat her family members.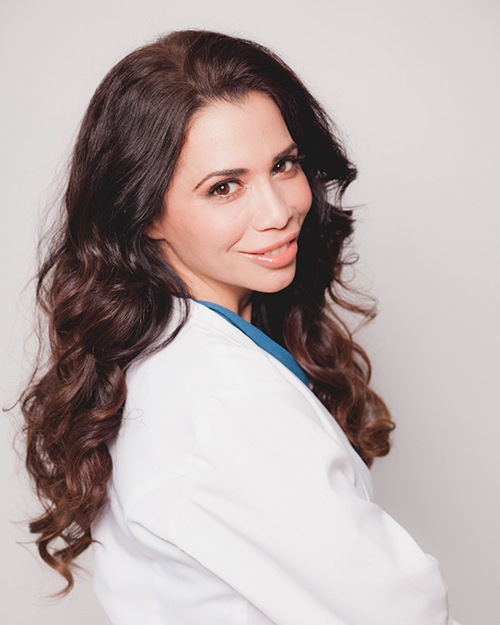 The most successful outcomes for body contouring procedures begin with a great conversation. Dr. Kormeili wants to get to know you and understand your aesthetic aspirations. She will review your medical history, conduct a preliminary examination, and answer any questions you have. After you discuss your goals and expectations, she can devise a custom treatment plan tailored to your unique physiology and desires.
Dr. Kormeili unifies extensive clinical experience with a dedication to achieving profound results for her patients. Her patient-centered approach has earned her many plaudits. Castle Connolly, the esteemed patient-centered non-profit organization, named Dr. Kormeili as a Top Doctor and as an Exceptional Woman in Medicine, highly prestigious achievements.
How to Prepare for EMSCULPT
One great thing about EMSCULPT is that it requires no special preparation. The day before your EMSCULPT session, you want to make sure to drink at least 2 liters of water. Staying hydrated is always important. Refrain from drinking alcohol or caffeine on the day before your session. Do not eat for 2 hours before your scheduled session.
What to Expect the Day of the Procedure
The EMSCULPT is straightforward. Once you arrive at the Derm & Rejuvenation Institute, we will make you comfortable in your private room. We will secure the applicators and then you can simply relax and allow EMSCULPT to do all the work. Sessions last 30 minutes. We recommend four initial sessions with follow-up sessions every 3-4 months.
Recovery & Results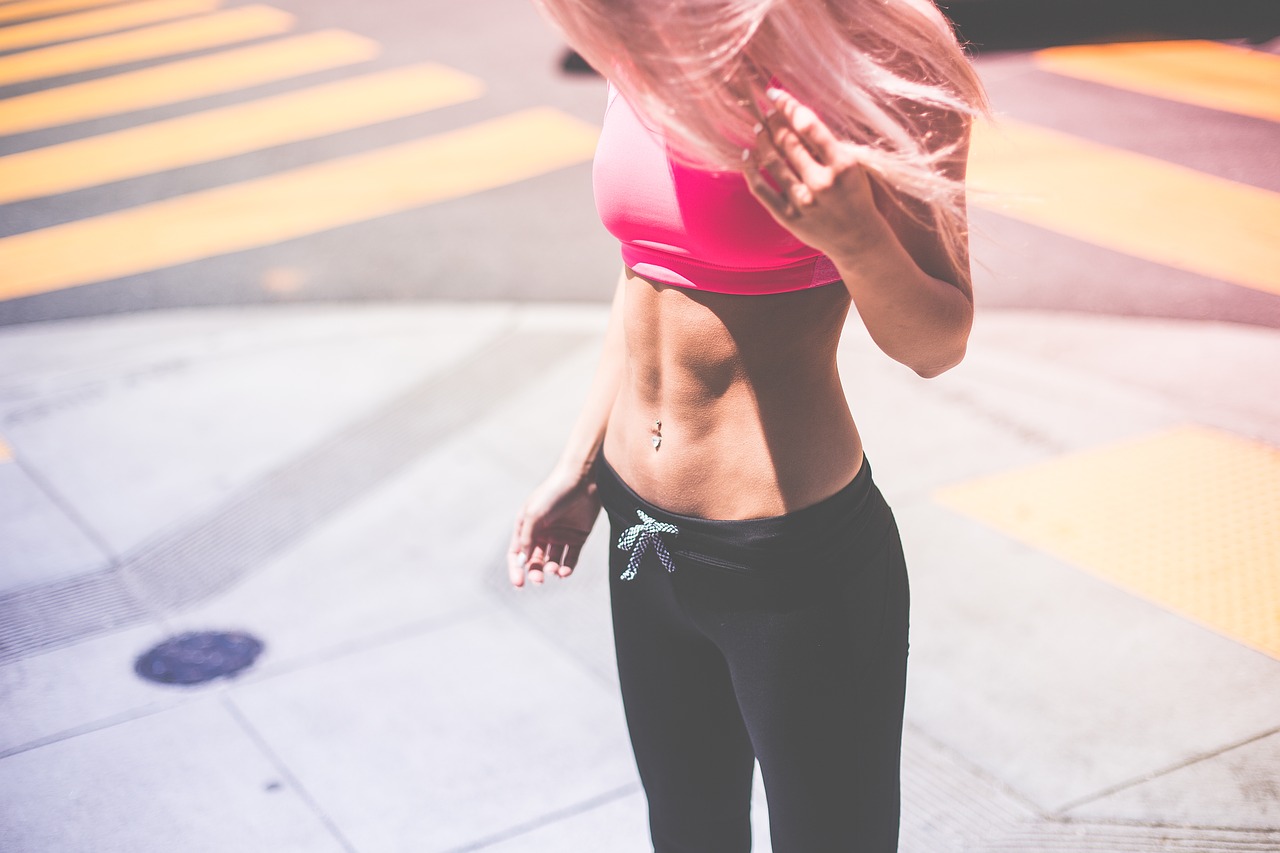 There is no downtime from an EMSCULPT session. The EMSCULPT machine has a built-in mechanism to diminish the effects of the lactic acid released from the muscle contractions. Most patients are very comfortable immediately after treatment.
Your body will begin to make new muscles after each treatment that is roughly equivalent to 20,000 contractions. You will see improvement as early as 1 month. Clinical trials show you can achieve a 16% increase in muscle tone with 4 sessions, received within 2 weeks. The study also shows 19% fat reduction in the targeted area with these treatments.[2] Increased muscle mass has also been clinically documented.[3]
"I feel so blessed to have found Dr. Kormeili. Not only is she a gifted and compassionate physician, but she makes you feel like you are the most important person in the world when she consults with you. She will help you accentuate your natural beauty not to mention your confidence!"

Jennifer, Long Beach
EMSCULPT with CoolSculpting
EMSCULPT and the popular CoolSculpting work great in combination. They form a synergistic connection that magnifies the results from either procedure. Together they form a dual approach to sculpting you the body you deserve. If you're looking to build muscle tone, EMSCULPT is the way to go. However, stunning body contouring results may require additional tightening and diminishing significant pockets of fat. These results are best accomplished through CoolSculpting along with EMSCULPT. During your consultation, we can determine the optimal treatment strategy to craft you the most alluring result.
Complementary Procedures
Buttocks: The EMSCULPT produces increased tone and firming of the actual gluteal muscles. It is often paired up with Sculptra for butt volumization and CoolSculpting for eliminating the unwanted fat under the butt or around the thighs.
Abdomen: EMSCULPT reveals abdominal muscle tone and builds a tauter physique. The laxity of the skin above can be corrected with Ultherapy or various lasers to induce tightening. Additional pockets of fat can be eliminated with CoolSculpting for the best results.
How Much Does EMSCULPT Cost
EMSCULPT treatments are tailored to each individual and their goals. After your initial consultation, we can provide you with clear and transparent pricing. Don't fret; at the Derm & Rejuvenation Institute, we have no hidden costs.
FAQ
Does EMSCULPT get rid of cellulite?
EMSCULPT uses HIFEM (High-Intensity Focused Electromagnetic) technology to induce muscle growth in the treatment areas. Areas of dimpling from cellulite are best treated using Sculptra.
How long does EMSCULPT last?
Muscle mass gained by EMSCULPT is subject to atrophy if it is not regularly stimulated. Because our body atrophies without stimulation, most patients exercise and attend follow-up up sessions annually for maintenance.
Does EMSCULPT make you stronger?
EMSCULPT is an FDA-approved body contouring treatment that uses electromagnetic waves and a magnetic field to stimulate strong muscle contractions. On average, patients had a 16% increase in muscle mass with a 19% fat reduction in the treatment area.
What does EMSCULPT feel like?
During EMSCULPT, you are laying on a treatment bed and the applicator will be placed on the treatment area for 30 minutes. You will feel strong contractions, but it is not painful. EMSCULPT is non-invasive and does not require anesthesia or pain meds.
How long does an EMSCULPT session take?
One EMSCULPT area takes 30 minutes. EMSCULPT can be considered a "lunchtime procedure" since you'll still have time to enjoy some sushi on your lunch break!
How do I prepare for EMSCULPT?
You show up! Then you can return to your normal daily activities. Simple, right?
How many EMSCULPT sessions will I need?
Four initial sessions usually achieve the optimal results. We then recommend 3-4 follow-up sessions per year to maintain your results. 
References
BTL Industries Inc. (2020, November 11). Emsculpt – Build More Muscle, Sculpt Your Body. Retrieved November 25, 2020, from https://bodybybtl.com/solutions/emsculpt/
Jacob CI, Paskova K. (2018) Safety and efficacy of a novel high-intensity focused electromagnetic technology device for noninvasive abdominal body shaping. Journal of Cosmetic Dermatology. 2018 Oct;17(5):783-787. doi: 10.1111/jocd.12779
Hoffmann, K., Soemantri, S., Hoffmann, K. et al. (2020). Body shaping with high-intensity focused electromagnetic technology. Journal für Ästhetische Chirurgie. 13, 64–69 https://doi.org/10.1007/s12631-020-00220-2