Skincare for Men
Conveniently located to serve the areas of Santa Monica and Los Angeles
Facial services for men are a collection of procedures, services, and products designed with men's specific needs in mind. In recent years, the cosmetic industry has developed new and exciting technologies designed to accommodate men's skin. Now, men of all ages are seeking ways to improve their complexion and boost their confidence. Dr. Tanya Kormeili is a board-certified dermatologist who offers curated cosmetic services for the Every Man! From practical skincare products to skin rejuvenating lasers, Dr. Kormeili has the resources and expertise to help men look and feel their best. If you would like to witness Dr. Kormeili's signature approach yourself, please schedule a personal consultation at our Santa Monica offices. Here, Dr. Kormeili will explain her services, examine your skin's condition, and configure a comprehensive treatment plan. If you have any questions, call us at (310) 526-8301.
Before & After
Cosmetics For The Every Man
For decades, the cosmetics industry has been largely marketed to women – which makes sense. Until recently, only women were presumed to be seeking cosmetic procedures, treatments, and products. So, the industry catered to women. But, in the past few years, more men have been undergoing cosmetic treatments at a startling rate. Between 1997 and 2015, cosmetic procedures performed on men increased by 273%.[1] During this time, skin-safe technologies improved significantly. These procedures lessened downtime and resulted in fewer noticeable side effects like redness and swelling – side effects that men can't cover with makeup. Now, men can achieve remarkable results through the most advanced, state-of-the-art procedures.
Differences In Men's Skin
Because of the significant anatomical and physiological differences in the composition of men's and women's skin, varying approaches are needed. For example, men's skin:[2]
Is thicker
Has a greater density of hair follicles
Produces more sweat
Has more abundant facial vasculature
Is more susceptible to skin infections
Heals slower
Skin Health
Men's Skin Care
Dr. Kormeili has tailored a Men's Skin Care approach that helps men have clear skin that lasts. Through either prescription products or in-house procedures, Dr. Kormeili can design a skincare regimen to meet your specific needs. But don't worry, these regimens are simple. After all, one study found that men are unlikely to use more than three skincare products at a time.[3]
Sun Damage
Many of our jobs or hobbies park us under the sun for long periods of time. Of course, some people have been religiously applying sunblock for years. But, not the majority of us. Overexposure to UV radiation weakens and discolors skin cells. These brown spots are known as sun spots, liver spots, age spots, or lentigines. They are uneven in size and shape and pop up on areas that get the most sunlight. These permanent spots only intensify with age and continued exposure.
Skin Damage Care
To reverse the signs of skin damage, Dr. Kormeili uses a Trichloroacetic Acid (TCA) peel. This medium-depth peel reaches deep into the dermis to cleanse and restore damaged cells. After a quick 30-minute session, facial lines and wrinkles have diminished, brown spots are lightened, and overall even vibrancy is returned to the skin.
Click To Make An Appointment
Skin Rejuvenation
For a healthy, blemish-free complexion, an ample amount of collagen fibers are needed. Our skin produces collagen steadily when we're younger. This production gradually slows with age, causing existing fibers to go unsupported. When collagen fibers become damaged and disorganized, wrinkles form, blemishes become more prominent, and our skin loses its youthful elasticity. Topicals can help with the appearance of our skin but don't stimulate new collagen growth. That's where lasers come in.
Fraxel Laser
Early skin resurfacing lasers stripped away the outermost layer of skin in its entirety. This often led to prolonged downtime and severe redness. The Fraxel Laser instead breaks up its laser energy so that it intentionally "misses" tiny areas of skin. This fractured energy allows for higher energy and sustained application, without the damage caused by traditional lasers.[4] The laser energy is able to penetrate deep into the skin. In response, the body triggers a wound healing response in the skin, sending restorative properties and compounds that rejuvenate the skin from the inside out. The Fraxel levels and intensity can be calibrated to men's specific skin type. Because of their thicker skin and higher density of sebaceous glands, practitioners tend to use higher settings when treating men's skin.[2] Fraxel treatments are typically split up between 2-4 weeks. Dr. Kormeili will discern how many treatments are necessary for achieving your desired results.
Uneven Tone & Texture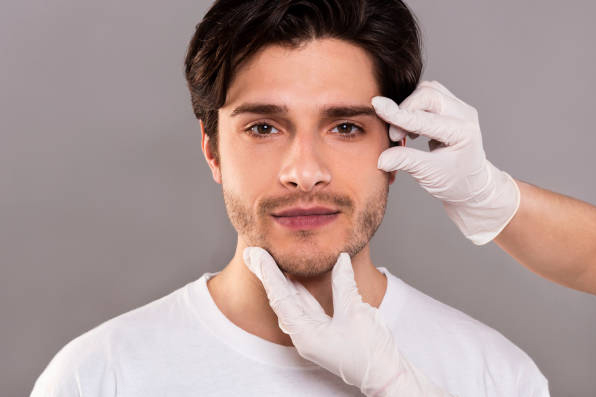 Over time, skin loses its consistency in tone and texture. This is largely due to a buildup of dead skin cells, genetics, and sun damage. This can result in irregular skin texture and other dermatological concerns. Many exfoliate to rid their complexion of dead skin and cellular debris. But for most, these simple skincare products don't go far enough. Since men's skin is oilier and thicker, a more intensive approach is needed to even their skin tone and texture. 
IPL Photofacial 
The Intense Pulsed Light (IPL) is a specialized light system that is calibrated to your specific skin condition. IPL can treat an array of blemishes. The light produced by the IPL device absorbs into the melanin and red blood cells in the skin. As the light energy converts to heat, the pigmented cells are destroyed, which triggers the body's regenerative process. Over time, the brown spots flake off, and facial redness is reduced. Healthy new skin cells replace the old, damaged ones, and men can enjoy a more even tone. Patches of rough skin are smoothed out, and you are left with a clearer, brighter complexion.
Candidates
If you are interested in Dr. Kormeili's collection of facial services, please schedule a personal consultation. Research shows that women seek cosmetic treatments for overall improvement and rejuvenation for their appearance, whereas men go with specific blemishes in mind.[2] These blemishes often include:
Acne
Acne scars
Melasma
Rosacea
Enlarged pores
Overactive sebaceous glands
Personal Consultation
Your consultation will take place in one of our private treatment rooms. If this is your first time with us, we will go over your recent medical history, perform a brief new patient intake interview, and perform a physical examination. Dr. Kormeili will listen to your cosmetic concerns and tailor a personalized plan for you. She will explain the procedural steps and help you pick out the best skincare products. If we schedule any procedures, you will be given specific preparation instructions. These instructions often include avoiding prolonged sunlight, staying well hydrated, and not having any active breakouts.
Recovery From Facial Services
Maintaining Results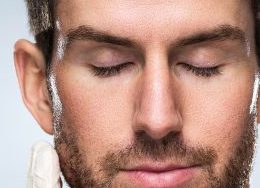 Now that you have clearer skin, it is important to keep it that way. Dr. Kormeili may prescribe or recommend different cosmetic products to maintain results. But, you need to do a little on your end too. Stay well hydrated, eat a balanced diet, and apply broad-spectrum sunscreen whenever you go out. These simple steps will help maintain the remarkable results achieved by Dr. Kormeili's expert approach.
Other Cosmetic Procedures For Men
Men come to our offices with many different types of cosmetic concerns. One notable one is hair loss. Unfortunately, 80% of men experience some degree of hair loss in their lives.[5] While this condition is common, it can still be damaging to a man's self-image. To help men grow back natural, thick hair, Dr. Kormeili offers NeoGraft. NeoGraft is a hair restoration technology that relocated the patient's own hair follicles to balding or thinning areas. Once these transplanted follicles take root, they begin regrowing hair. Months after a NeoGraft session, patients have fuller, thicker hair.
How Much Do Facial Services For Men Cost In Santa Monica?
Each facial service comes with a unique price. We will discuss and determine the total cost of your care during your consultation. If you are interested in visiting us for the first time, check out previous patient reviews to learn more about our office. For those who want to read more about the latest in the aesthetics industry, visit our blog. If you have any questions, call us at (310) 526-8301.
References