Facial Volume Restoration
Conveniently located to serve the areas of Santa Monica and Los Angeles
Restoring volume and reducing wrinkles with injectables is a popular and effective anti-aging treatment. Injectables, such as BOTOX® Cosmetic or dermal fillers, are injected into the skin to fill in wrinkles and folds, add volume to areas that have lost it due to age, and give your face a more youthful appearance.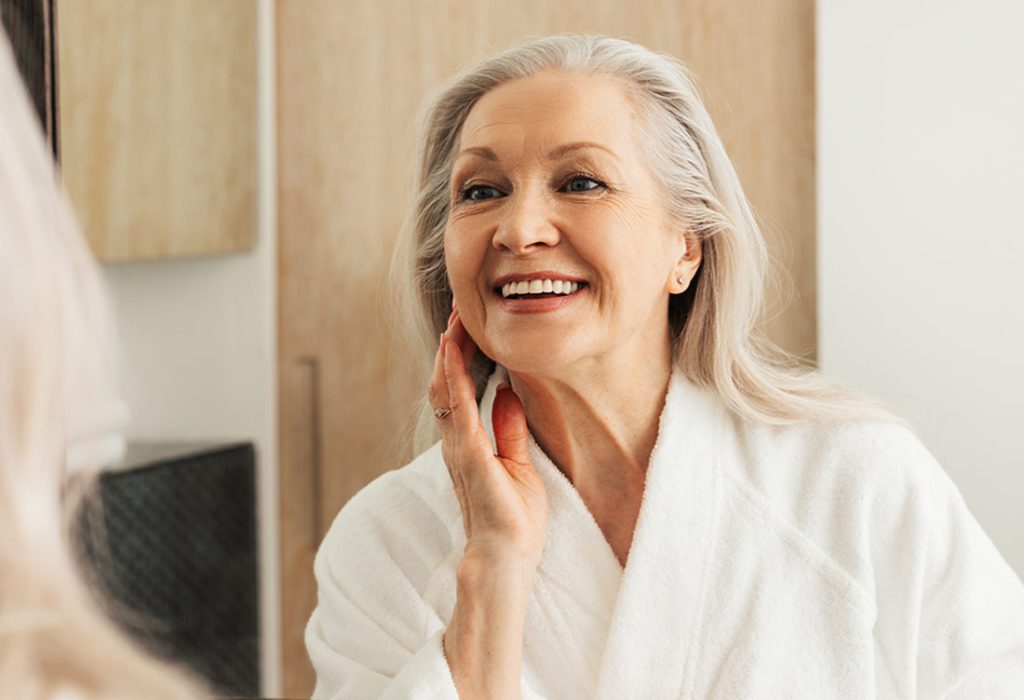 Board-certified dermatologist Dr. Tanya Kormeili specializes in crafting natural-looking results with an array of incredible injectables. She carefully evaluates the patient's facial features, skin tone, and other factors to determine which injectable treatment will be most beneficial. Dr. Kormeili believes in multi-level patient satisfaction and carefully walks the patient through their options to ensure they understand what to expect from the treatment and are comfortable with the results. Find out why so many patients in Santa Monica, Beverly Hills, Hollywood, and beyond flock to this maven of injectable treatments to experience her expertise! Call Derm & Rejuvenation Insitute at (310) 526-8301 to reach our scheduling coordinator so you can experience a bit of the Kormeili magic for yourself.
Before & After
Dr. Kormeili uses this blog so her patients can learn more about injectables, skincare, and other dermatology topics. She regularly shares tips, tricks, and advice to help patients make informed decisions about their own treatment plans. Follow us on Facebook to get notifications when new content is posted!
Take Control of Your Skin and Appearance
Taking control of your skin and appearance with injectables can be a great way to feel confident and gorgeous all year round. Whether you're looking to reduce wrinkles, restore volume, or just rejuvenate your complexion, Dr. Kormeili has the expertise and knowledge to help you achieve a look that you can be proud of. Contact us today to learn more about our injectable treatments and take an important step toward feeling your best self!
Patients in Santa Monica who see Dr. Kormeili for her injectable treatments can expect to experience:
Immediate results with minimal downtime
A more youthful appearance with fewer wrinkles and subtle volume restoration
Natural-looking, long-lasting results thanks to Dr. Kormeili's expertise in facial anatomy
An individualized plan tailored to the patient's unique needs
A safe and comfortable experience with minimal side effects or discomfort
Assessing Your Skin
When you visit Dr. Kormeili's office, you can expect her to take the time to examine your skin and then explain each step of the process so that you feel relaxed knowing exactly what is being done during your procedure. Depending on the type of injectable you choose, she will carefully assess your medical history to determine your eligibility for treatment and the perfect product to use.
Dr. Kormeili's consultations are a chance not only to assess the areas that need to be treated and make sure you are physically able to receive the injectables but also to learn about the other treatments you can choose from. With her patient-first approach, she will never push a treatment or procedure onto you if it is not right for you.
Benefits of Injectable Treatment for Your Skin
The biggest benefit of injectables is that they offer a non-surgical solution to achieve the results you want. These treatments are quick and relatively painless, allowing you to resume your normal activities immediately after treatment. Results from injectable treatments can last anywhere from 3-12 months or longer, depending on the type of product used and the area treated.
Injectables also offer natural-looking results – with Dr. Kormeili's attention to detail, your face can look more youthful and vibrant without it being obvious that you have had work done.
Are Injectables Right for You?
If you are looking for a way to reduce wrinkles and restore volume in a quick, safe process, injectables may be a perfect choice. However, these treatments are not suitable for everyone. You should consult with a board-certified dermatologist such as Dr. Kormeili to discuss your options and determine if injectables are right for you.
At Derm & Rejuvenation Institute, we understand that each patient is unique and requires personalized care and attention. We take the time to understand what you want and create a tailor-made plan that will give you the results you desire. To learn more about injectables and other treatments available, contact us today by calling (310) 526-8301. We look forward to helping you look and feel your best!
How Do Injectables Restore Volume?
Fillers are a safe, effective way to restore volume in the face and hands. The injectable fillers used by Dr. Kormeili contain hyaluronic acid or calcium hydroxyapatite, both of which work to safely fill out lines and creases in the skin for a smoother, more youthful appearance.
Let's take a look at the many fillers Dr. Kormeili offers her patients in her Santa Monica office:
Hyaluronic Acid Fillers
The beauty of hyaluronic acid (HA) fillers is they are made from a naturally occurring substance in the body that binds with water to add volume and hydration to the skin. [1] HA fillers are used to soften wrinkles, fill in hollows and areas of volume loss, and plump up the lips.
Dr. Kormeili offers a variety of HA fillers to treat many common signs of aging:
Belotero Balance is a dermal filler that provides precise injection, making it ideal for correcting forehead lines, the vermilion border (line around the lips), tear troughs, atrophic scars, and neck lines in some cases. [2]
Juvéderm XC, another popular HA filler, can be used to soften deep wrinkles and creases, as well as give the patient a "liquid facelift" – restoring volume in areas that have begun to look sunken or hollow. The Juvéderm family also includes Voluma XC which is designed to lift and contour the cheek area for a more youthful-looking profile.
Restylane has different formulations and can help restore volume to shallow contours, soften facial creases and wrinkles, and give shape to thin or uneven lips. Restylane Silk is specifically designed for lip augmentation, while Restylane Lyft is best suited to create fuller cheeks; both formulations are structured from HA.
Calcium Hydroxyapatite Fillers
Radiesse is an injectable filler made of calcium hydroxyapatite. It can be used to address deep wrinkles as well as restore volume in areas such as the cheeks and hands. Another benefit of Radiesse is that it stimulates the production of collagen, a protein in the skin that provides structure and support; this can help prolong the effects of the treatment. [3]
Injectables provide an efficient, safe way to reduce the appearance of wrinkles and restore volume with minimal downtime. However, it is important to have a knowledgeable professional like Dr. Kormeili on your side when considering this type of treatment. At Derm & Rejuvenation Institute, we will assess your individual needs and create a treatment plan tailored to you – so you can look and feel your best. Contact us today to learn more about our injectable options!
Stop Aging Skin in its Tracks
Botox, Dysport, and Xeomin are neuromodulators that work to relax the facial muscles and reduce wrinkles. Dr. Kormeili is a skilled injector who will make sure your treatment looks natural and proportionate.
Each of these three products has a different molecular structure, so Dr. Kormeili will assess your individual needs and determine which is best suited for you.
Botox can be used to treat dynamic wrinkles — wrinkles that form as a result of muscle movement. It can be used to soften crow's feet, frown lines, and forehead wrinkles for smoother, younger-looking skin.
Dysport is a similar wrinkle relaxer that works to reduce the appearance of moderate to severe wrinkles. It can also be used to reduce excessive sweating, a condition known as hyperhidrosis. [4]
Xeomin is made from botulinum toxin type A, which is the same active ingredient as in Botox and Dysport. It is another effective treatment to reduce dynamic wrinkles and improve facial contours.
Dr. Kormeili can also combine injectables, such as Botox and fillers, for maximum anti-aging benefits. Contact us for a personalized consultation to discover the best anti-aging treatment for you.
Restore Skin Elasticity with PRP
Platelet-rich plasma (PRP) treatments for the skin are a revolutionary way to use your own blood to restore skin elasticity, improve texture, and reduce the appearance of wrinkles. PRP treatments can also help with hair loss.
During the procedure, your blood is drawn and put into a centrifuge to separate out its components. The platelet-rich plasma that is harvested is then re-injected into the skin or hair.
PRP treatments can also be used in combination with microneedling to further reduce wrinkles, scars, and other skin imperfections. These treatments can be used on the face, neck, chest, and hands.
The Magic of Injectables
Did you know there is an injectable called Kybella that can "melt" fat under the chin and on the jowls? Or Sculptra, which can be used to stimulate collagen production, fill out deep wrinkles, and provide natural-looking volume? These are just two of the many injectables that Dr. Kormeili specializes in at her Santa Monica office. Injectables can provide a range of anti-aging and sculpting benefits and many patients who would rather avoid surgery love the benefits.
More About Sculptra Aesthetic
Sculptra Aesthetic is a dermal filler made of poly-L-lactic acid, which is designed to stimulate collagen production and improve the skin's elasticity. It can be used to treat wrinkles and folds, such as smile lines, or it can be used to provide subtle volume in areas such as the cheeks. Results can last up to two years, and multiple treatments may be needed for optimal results.
More About Kybella
Kybella is an injectable made of deoxycholic acid, which is a naturally occurring molecule in the body that helps to break down fat. It can be used to reduce the appearance of fat under the chin and in the jowls for a more defined jawline. This treatment is especially popular among patients who are unhappy with the look of a double chin. Kybella is safe and effective and requires no downtime.
After Care & Follow Up
Once your injectables procedure is complete, Dr. Kormeili will provide aftercare instructions that may include:
Avoiding hot showers, saunas, and heat treatments
Not rubbing or massaging the treated area
Avoiding activities that may cause excessive sweating
Applying cold compresses to the injection site, if needed
Dr. Kormeili will provide follow-up appointments if necessary to ensure the best results. She can also help you determine how often you should expect to get maintenance treatments.
What is the Cost of Injectable Treatment in Santa Monica, CA?
The cost of injectables can vary, depending on the type of treatment and amount of product needed. At Derm & Rejuvenation Institute, we strive to provide the highest quality treatments at an affordable price. Our team can discuss pricing during your personalized consultation.
Call us at (310) 526-8301 or book an appointment online to schedule your personalized consultation. Our experienced medical staff is here to answer any questions you may have about injectables or any of our other treatments. We are dedicated to providing personalized care and exceptional results. Schedule your consultation today!
References