KOR Body Contouring
Conveniently located to serve the areas of Santa Monica and Los Angeles
Your Post Quarantine Body Awaits! Loss of Fat. Build Muscle. Tighten and Sculpt.
Tired of stubborn fat that just doesn't go away no matter how much you exercise?
Do you wish you could wear nice clothes without love handles?
Are you tired of your thighs rubbing together?
Do you wish you could wear that bikini without the muffin top?
Are you tired of trying to hide bra fat and back fat by wearing loose-fitting clothes?
Do you wish you had a pump firm butt instead of a saggy one?
What if your entire body was stronger with a tighter core without having to do a single squat or sit up?
What if you could look and feel healthier without undergoing the knife or having downtime?
About
SAY GOOD-BYE TO MUFFIN TOPS, LOVE HANDLES, ARM FAT, BRA FAT, BACK FAT, INNER THIGH FAT, AND OTHER AREAS OF UNWANTED FAT!
The KOR Method combines the latest devices for Non-Surgical Body Contouring along with injections to deliver lasting results. Now you can eliminate stubborn unwanted fat without surgery or downtime. You'll love your KOR Method results every time you look in the mirror.
The first step of non-surgical body contouring is eliminating stubborn, hard to lose fat. It's easy to sit back, relax, and say goodbye to stubborn fat. After we select the area(s) to be treated, the device is positioned on your body and controlled cooling is applied. During your procedure, you may choose to read, check email, watch Netflix, or even take a nap.
The treated fat cells are crystallized (frozen), and then die. Over time, your body naturally processes the fat and eliminates these dead cells, leaving a more sculpted you.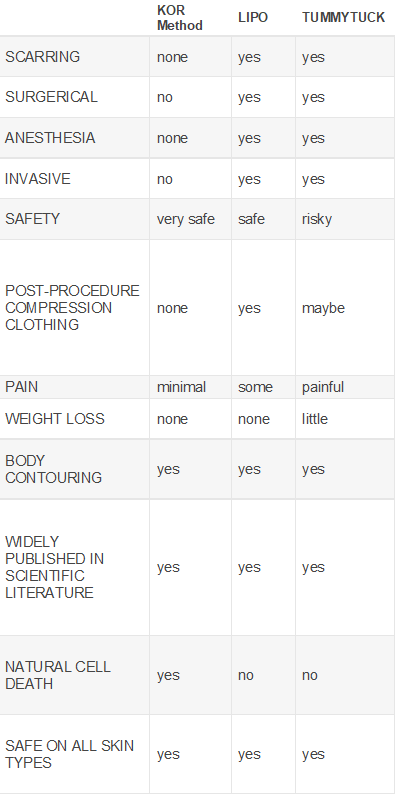 Can't Go To Gym? Tired Of Endless Weight-Lifting Without Incredible Results?
Another wonderful part of non-surgical body contouring is strengthening and building muscles without any exercise! Our FDA approved EmSculpt muscle-building device does all the work for you. When exposed to strong contractions, the muscle tissue is forced to adapt to such extreme conditions. It responds with a deep remodeling of its inner structure that results in muscle building and sculpting your body.
Relax and smile while our FDA approved devices help you tone your calves, build strong biceps and triceps, strengthen your core, and lift and tighten your booty. The science is what people are saying, 'YES!' The efficacy and safety have been tested in seven multi-center studies by the most reputable scientific methods (MRI, CT, US, and Histology).

Sexy Abs
Tight Buttocks
Sculpted Arms
Chiseled Calves
Stronger Back and Core

Get Firmer and Tighter Looking Skin With Zero Exercise!
As we age, collagen breaks down, resulting in loss of skin strength and elasticity.
DEEPLY CUSTOMIZED
Using ultrasound technology we can see the layers of tissue they are treating, ensuring treatment is delivered to where it will be most beneficial.

Click To Make An Appointment