Radiesse
Conveniently located to serve the areas of Santa Monica and Los Angeles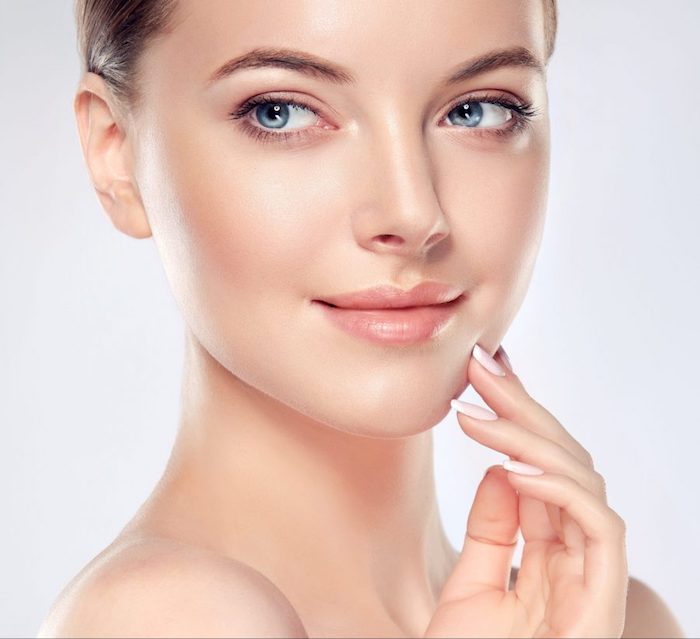 Radiesse is a calcium-based injectable with robust filling power. This convenient treatment fills and corrects smile lines, nasolabial folds, temples, jawlines, chins, wrinkles around the nose and mouth, or even chest lines and cellulite reduction. Radiesse is a successful instant-result treatment, lasting 12-18 months, without the need for traditional synthetic implants. It is a great product for facial contouring and rejuvenation. It not only helps with temporary filling and volumization, but it can also help build up your own collagen as an additional long-term benefit.
Dr. Tanya Kormeili, a board-certified dermatologist at Santa Monica's Derm & Rejuvenation Institute, has extensive experience using Radiesse to help patients achieve their aesthetic goals. During your consultation, she will assess your unique needs and develop a customized treatment plan to help you achieve natural-looking results. The procedure is generally well-tolerated, with minimal downtime required. To learn more about Radiesse and whether it is right for you, contact us at (310) 526-8301 to schedule a consultation at our Santa Monica office.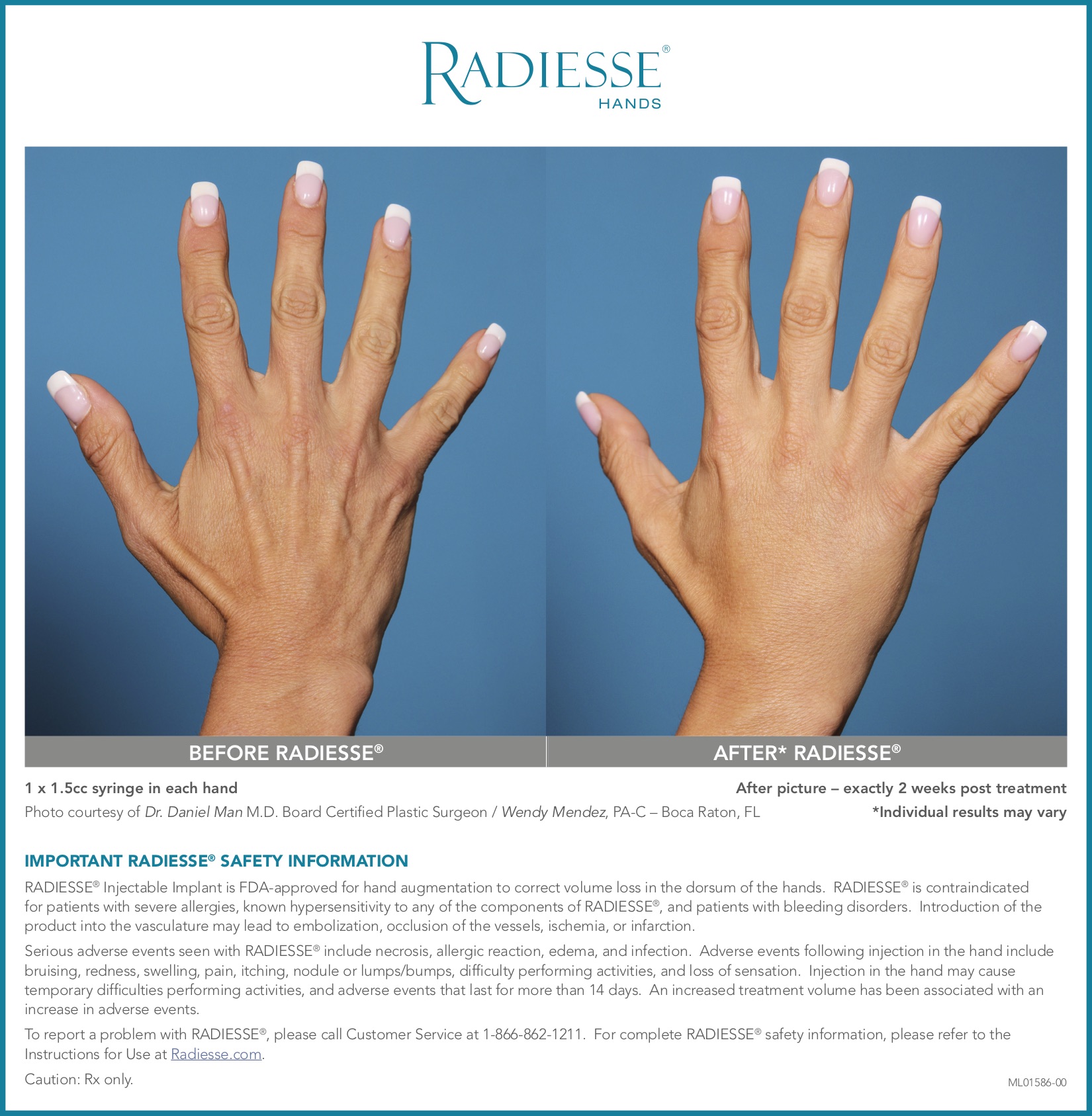 About Radiesse
Known by many as a "non-surgical facelift", Radiesse is a dermal filler made of 30% calcium hydroxylapatite, (1) a biocompatible substance that naturally occurs in our bones and teeth. With this unique formula, Radiesse is an FDA-approved option to smooth out facial wrinkles and folds while also stimulating collagen production.
Why Should You Choose Radiesse?
As we age, our skin loses elasticity and volume, leading to wrinkles, fine lines, and sagging skin. Radiesse can help address these concerns by providing a non-surgical option for volumizing and rejuvenating the face and hands. It is particularly effective at treating deeper wrinkles and folds, such as the nasolabial folds (lines from the nose to mouth), marionette lines (lines from the corners of the mouth downwards), and jowls. It can also be used to improve the appearance of aging hands, by restoring volume and minimizing the appearance of veins and tendons.
Radiesse is effective in the treatment of the following areas. (2)
Glabellar Lines
Subdermal Brow Support
Malar and Buccal Fat Pads
Tear Troughs
Nasolabial Folds
Perioral Region
Marionette Lines
Oral Commissure & Chin
Saucerized Acne Scars
Facial Volume Loss
Chest Lines
Cellulite
Benefits of Radiesse
Radiesse is a revolutionary dermal filler that can offer numerous benefits to those seeking facial rejuvenation without undergoing surgery. As an experienced plastic surgeon, Dr. Kormeili has been providing Radiesse injections for years and understands how to achieve natural-looking results tailored to each patient's unique needs. Here are ten key benefits of Radiesse:
Wrinkle Reduction: targeted Radiesse treatment reduces the appearance of wrinkles and fine lines on the face.
Collagen Stimulation: Radiesse not only fills in wrinkles and fine lines but also stimulates collagen production. This can lead to long-term improvements in skin elasticity and texture.
Long-Lasting Results: The effects of Radiesse can last up to 18 months, making it a long-lasting and cost-effective solution for facial rejuvenation.
Minimal Downtime: Radiesse injections require little to no downtime, allowing patients to return to their normal activities immediately after treatment.
Natural-Looking Appearance: Radiesse is known for providing natural-looking results, ensuring patients look like themselves, only better.
Immediate Improvement: Patients will notice a visible improvement in their appearance immediately after Radiesse injections.
Increased Skin Volume: Radiesse can help increase skin volume in areas where it has been lost due to aging or other factors.
If you're interested in learning more about Radiesse and how it can benefit your skin, Dr. Kormeili is here to help. Contact us today to schedule a consultation and take the first step toward achieving your aesthetic goals.
Candidates
Radiesse is suitable for both men and women who are in good overall health and have realistic expectations for the procedure's outcome. The ideal candidate for Radiesse is anyone looking to restore their youthful appearance without undergoing invasive surgery. Although Radiesse is suitable for many patients, it should not be used in the following circumstances.
Patients with a history of severe allergic reactions (anaphylaxis)
Patients with a known sensitivity to any of the ingredients
If you have an active infection in the area of treatment, we ask that you postpone your Radiesse procedure until it has resolved.
Personal Consultation
Dr. Kormeili specializes in tailoring skin treatments to the bone structure and anatomy of the patient. We will pay close attention to your skin type and any additional skin conditions during your consultation. All filler treatments involving Radiesse are designed individually for you based on a careful clinical exam and your desired aesthetic goals.
Preparation
If you are considering Radiesse as a dermal filler for wrinkle treatment, facial contouring, chest line, or cellulite reduction, it is essential to prepare yourself adequately before the procedure. At Derm & Rejuvenation Institute, we believe that preparation is critical to achieving optimal results and ensuring a smooth recovery.
Before your Radiesse appointment, it's crucial to discontinue blood thinners, such as aspirin, supplements, and other medications, as instructed by your doctor. If you smoke, it is advisable to quit smoking in the weeks leading up to your procedure, as this can slow down the healing process and interfere with collagen stimulation.
Radiesse Procedure
During your Radiesse treatment with Dr. Kormeili, a small amount of calcium hydroxylapatite (CaHa) gel will be injected beneath the surface of your skin using a fine needle. This gel works to fill in lines and wrinkles, smooth out rough or uneven skin texture, and provide a subtle yet noticeable lift to sagging skin.
In addition to facial rejuvenation, Radiesse can also be used to rejuvenate hands that have lost volume and elasticity over time. With its minimally invasive approach and long-lasting results, Radiesse is a popular choice for patients who want to achieve a more youthful, vibrant look without undergoing surgery. So if you're ready to experience the benefits of Radiesse for yourself, contact Dr. Kormeili at Derm & Rejuvenation Institute by calling (310) 526-8301 to schedule your consultation.
Recovery
To prevent excessive bruising or swelling due to increased blood flow to the area injected, we recommend no strenuous activity post-injection. We recommend that for the first few days not to lay face-down especially if you are swollen. Cleanse your face well to avoid introducing bacteria into the injection sites.
The increase in volume from Radiesse is immediate, however, there may be some additional localized swelling which will resolve in the coming days. There is continual improvement due to increased collagen production after treatment.
Results
The results of Radiesse typically last 12 months or longer, depending on the individual and the location of the injection. One of the unique benefits of Radiesse is that your skin will continue to improve even after the filler has dissolved.
Cost of Radiesse in Santa Monica
Dr. Kormeili is an expert in dermal fillers such as Radiesse. She has helped many patients achieve their desired results by providing personalized treatment plans that meets their unique needs. After your consultation, she will provide you with a reasonable estimate for your procedure.
We believe that investing in yourself is worthwhile, and we want to make it possible for everyone to feel confident and beautiful. So, if you're looking for a safe and effective way to rejuvenate your face without breaking the bank, Radiesse may be the right choice for you. Contact us at (310) 526-8301 to schedule your appointment with Dr. Kormeili and take the first step towards a more youthful you.
Find out why patients choose Dr. K, and get the lowdown on injectables in Santa Monica by reading more on our blog.
FAQ
Is Radiesse a safe filler?
Since Radiesse is made of a calcium-based product that naturally occurs in the body, the risk of complications is relatively small. All fillers, including Radiesse, have the risk of bruising and swelling which is temporary.
What are the side effects of Radiesse?
The temporary side effects of Radiesse are bruising, and swelling for the most part. Like all dermal fillers, Radiesse should be used correctly and is not suitable for certain body areas such as the lips.
Is Radiesse permanent?
Based on studies, Radiesse can last from 12 to 18 months. Because it stimulates the production of your own collagen the results can last for years after that. 
Can you use Radiesse in the lips?
Radiesse is not intended for lip augmentation. Restylane, Juvederm or Belotero Balance are far better choices for lip injections.
Is Radiesse suitable for marionette lines?
Radiesse can be a great filler for marionette lines in certain patients depending on their overall face shape, anatomy, and skin thickness.
Does Radiesse build collagen?
Yes. Radiesse can build your own skin collagen in addition to providing immediate volume. Over the following weeks, Radiesse microspheres stimulate the skin to produce new collagen that lasts significantly longer than most fillers.
References
Loghem JV, Yutskovskaya YA, Philip Werschler W. Calcium hydroxylapatite: over a decade of clinical experience. The Journal of clinical and aesthetic dermatology. 2015;8(1):38-49. Accessed June 5, 2023. https://www.ncbi.nlm.nih.gov/pmc/articles/PMC4295857/#:~:text=Radiesse%20is%20a%20biodegradable%20filler
Jacovella PF. Use of calcium hydroxylapatite (Radiesse®) for facial augmentation. Clinical Interventions in Aging. 2008;3(1):161-174. https://www.ncbi.nlm.nih.gov/pmc/articles/PMC2544361/
Click To Make An Appointment