Skin Damage
Conveniently located to serve the areas of Santa Monica and Los Angeles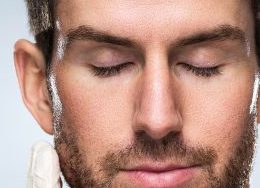 Many men have had excessive sun exposure in former years that has rendered the skin old, and blotchy. This increases the risk for skin cancer while making men look old and weathered.
Trichloroacetic Acid (TCA) is a medium depth peel great for people with various skin types and tones who desire a more dramatic outcome than some of our other peels may provide. The TCA peel is used in concentrations of 10 – 35%, and depending on the strength, it can reach to varying layers of skin depth.
TCA Peels are great for:
Reducing deeper lines and wrinkles
Removing superficial blemishes
Correcting skin pigmentation problems
Reducing the appearance of small scars
Improving overall skin tone
The TCA Peel procedure lasts for approximately 30 minutes. Most patients experience significant redness following a TCA treatment. Peeling lasts for 3 or more days, and your skin should be completely healed with 10 – 14 days.
The use of TCA peel on the skin can produce amazing results and reverse the years of sun damage.Curious or want to learn more? We'd be happy to discuss. Please contact our office with any questions or to schedule a personal consultation with Dr. Kormeili.
Before & After
Click To Make An Appointment