Chest Sculpting for Men
Conveniently located to serve the areas of Santa Monica and Los Angeles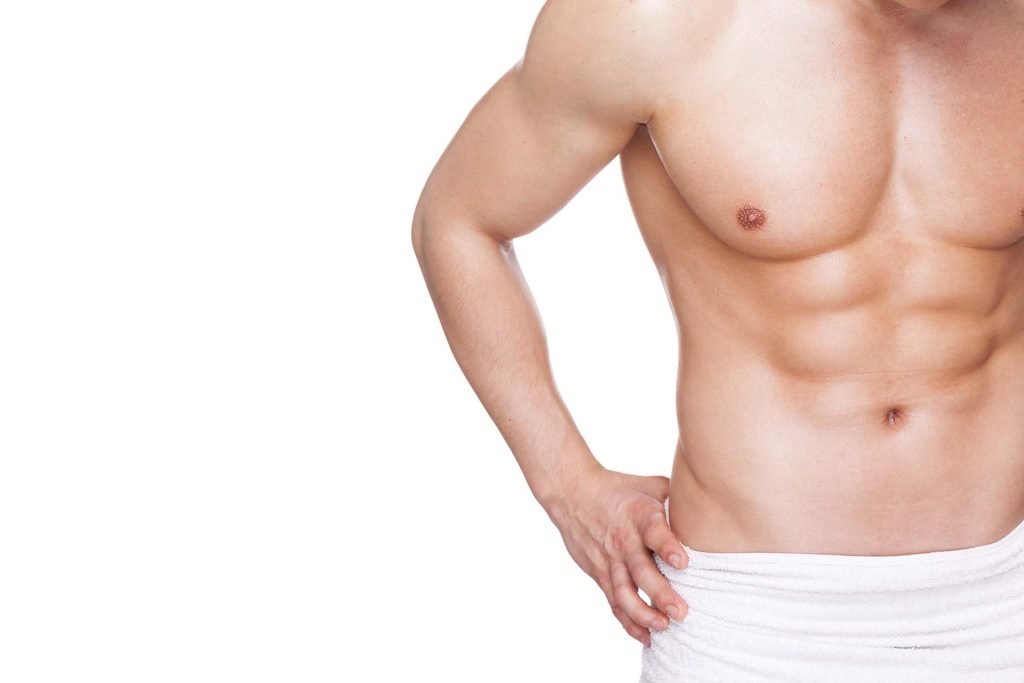 Chest Sculpting for Men is a new and innovative way to get the chiseled chest you have always wanted. Men can achieve more sculpted and defined pectoral muscles using state-of-the-art procedures because cosmetic procedures are not just for women! But just as women love full, perky breasts to convey youth and vitality, men want a masculine, powerful chest that shows off their strength.
New, minimally-invasive procedures are now available to give men the chest they have always wanted. Dr. Tanya Kormeili is a board-certified dermatologist. She offers many chest sculpting and contouring methods to her patients in Santa Monica and Los Angeles! Dr. Kormeili knows that a man and his chest are intimately connected and that a man's chest is often a source of great pride. So if you don't love your chest, we can help! Schedule a consultation with Dr. Kormeili today and learn more about everything we can do to make you the best version of yourself – call (310) 526-8301 or contact us for a returned call.
Interested in learning more about how Dr. Kormeili approaches cosmetic improvements for men and women? Follow our blog!
How Do Men Get Good Pecs?
Some men love the gym and get great results when they work out; they may even take their sculpted pecs for granted. But this is not a reality for everyone. Unfortunately, sometimes we lack the time, motivation, or even the genetics, to build big pectorals. Thankfully, the surgical cosmetic industry is here to help.
Why Are My Pecs So Small?
Why might a man want to focus a procedure on boosting the size and appearance of his chest muscles? For the same reason, we all want science to help us achieve peak hotty status; when we look better, we feel better!
The chest is such an essential part of a man's physique. It can make or break a man's appearance in a shirt, which is often the first thing people notice about a man's body. A man with a well-defined, muscular chest looks strong, while a man with a flabby or undefined chest may look out of shape.
There are several reasons why a man might have a less-than-ideal chest.
As men age, they can lose the definition in their chest muscles due to a decrease in testosterone. [1]
Some men are simply born with less-defined chest muscles.
Many men who have lost a significant amount of weight may find that their chest has become saggy and deflated.
Maybe you have a build-up of fatty tissue in the chest due to genetics or drinking. Did you know when men drink, they can build up what is called "beer breasts," which are large, fatty deposits in the chest that give the appearance of breasts? [2]
These are all perfectly valid reasons to seek a procedure to improve the appearance of your pecs. With the proper techniques in the skilled hands of Dr. Kormeili, you can have a muscular, chiseled chest you'll be proud to show off.
Non-Invasive Procedures to Sculpt Your Chest
There are many procedures to reduce the size of pockets of chest fat and build muscle. We believe all bodies are beautiful and no body should inspire shame. But maybe you're not someone who wants to have breasts, and that's ok. Read on for more of what Dr. Kormeili has to offer.
How Do I Get Rid of Man Boobs?
Gynecomastia is the condition when men have enlarged breast tissue and can be the result of several different causes, such as:
Weight gain
Hormonal changes
Side effects from certain medications
Beer, and even some illegal drugs [2]
This condition can lead to feelings of self-consciousness and embarrassment. Many men feel they can't take their shirt off in public or even go to the gym for fear of being ridiculed.
If you are suffering from the effects of gynecomastia, you don't have to any longer.
KOR Body Contouring
KOR Body Contouring is a method of freezing fat cells until they naturally die and are safely and effectively absorbed and removed from your body. This method is non-invasive, meaning no surgery or anesthesia is required. It is a simple, in-office procedure that takes less than an hour to complete with no downtime.
EmSculpt
EmSculpt not only burns fat but sculpts muscle. The system uses HIFEM (High-Intensity Focused Electromagnetic) technology to produce muscle growth in treated areas. EmSculpt is FDA-cleared to burn fat and build muscle mass, making it the first and only non-invasive procedure of its kind.
In a single 30-minute treatment, EmSculpt can destroy up to 17.5% to 19% of fat cells and increase muscle mass by 20.56%.[3]
CoolSculpting
Another non-invasive, nonsurgical method to reduce the amount of fatty chest tissue is CoolSculpting. This procedure, like the KOR Method, freezes cells until they naturally die and are safely flushed out of the system.
Methods such as these are effective because fat cells freeze at a lower temperature than water, so KOR Method and CoolSculpting do not affect anything other than fat cells.[4]
Get Larger Pecs With Dr. Kormeili
For patients who do not need to address fat cells but would like to increase their chest size, Dr. Kormeili offers procedures ranging from fillers to muscle builders.
Dermal Fillers for the Chest
Dermal Fillers, or should we say Chest Fillers, are an excellent choice for men looking for a minimal boost to their chest profile. Fillers like Sculptra, Bolotero Balance, and Juvéderm Voluma can contour and provide a solution for a less-than-defined chest. Injections take less than an hour, and the results are immediate; this is a popular choice for men that want to avoid surgery but still see significant changes in their appearance. However, these solutions are not permanent – the body safely absorbs the fillers over time.
EmSculpt for Building Muscle
We mentioned EmSculpt above, but the treatment is so incredible it's worth a second mention. We may even say it a third time! EmSculpt contracts muscle deeper and more efficiently than working out on your own at the gym. So grow those pecs and increase your confidence!
What are the Benefits of Chest Sculpting for Men?
There are many benefits of Chest Sculpting for men, but here are a few of the most common reasons our patients choose to have the procedure:
Improve self-esteem and self-image
Eliminate or reduce the appearance of man breasts
Reshape and contour the chest
Enhance the overall appearance of the chest
Improve physical confidence
Increased satisfaction with intimacy
If you are unhappy with your chest appearance and want to learn more about our procedures, contact us today to schedule a consultation with Dr. Kormeili. We will work with you to develop a treatment plan tailored to your specific needs and goals.
Candidates for Chest Sculpting
The best candidates for each treatment will be determined during your consultation with Dr. Kormeili. She will review your medical history, discuss your goals, and perform a physical examination. She will then recommend the best course of treatment for you. A few of the most important considerations for any treatment are:
Realistic expectations
A healthy psychological state
Good physical health
No underlying medical conditions
At or near your ideal weight
Good skin elasticity
It is important to remember that each patient is different and will require a unique treatment plan. Therefore, the best way to determine if you are a candidate for chest sculpting is to schedule a consultation with Dr. Kormeili.
Personal Consultation
There are several ways to achieve the chest you want, but choosing a reputable dermatologist with experience with the procedures that interest you is essential. Dr. Kormeili is a board-certified dermatologist, professor, and medical consultant who has years of experience helping men achieve the bodies they desire.
Dr. Kormeili will take the time to understand your goals and help you create a plan to achieve them. She will also provide you with all the information you need to make an informed decision about which procedure is the best fit for you.
If you are ready to take the next step, contact us today to schedule a consultation with Dr. Kormeili. During your consultation, she will examine your chest and discuss your goals to develop a treatment plan that is right for you.
Preparing For Treatment
The good news is there is very little you need to do to prepare for chest sculpting. However, if there is anything specific you need to do, such as shaving your chest or removing any lotions or products, Dr. Kormeili will let you know ahead of time. It is important to remember that each procedure is different, so the preparation will vary depending on which one you choose.
The Procedures
Each procedure is different, but we'll go over the broad strokes of each one we offer for chest sculpting. If you have questions, give us a call! We'd be happy to answer your questions and schedule a consultation.
Fat Burning
KOR Method & CoolSculpting – A device is positioned over the chest to direct controlled cooling to the area. The fatty tissue is frozen, broken down, and metabolized by the body over the next few months.
Muscle Building
EmSculpt – We will apply a device to the chest that uses high-intensity focused electromagnetic energy to induce muscle contractions. These supramaximal contractions are much stronger than what contractions the muscles can generate on their own; they also burn fat.
Volumizing
Dermal Filler – When a patient chooses a dermal filler, a needle injects the filler into the skin to add volume and achieve the desired results. Dr. Kormeili will inject the filler strategically to create the most natural-looking results.
Recovery from Chest Sculpting
The best part about minimally- or non-invasive procedures is they have minimal (if any) downtime! With injections, patients may experience some redness, swelling, and bruising at the injection site, but this typically resolves within a few days.
For fat-burning and muscle-building procedures, patients may experience numbness, tingling, and redness in the treated area, but this will resolve quickly. Additionally, with EmSculpt, patients may feel sore in the treated area, like they have been pumping iron at the gym.
Corresponding & Complementary Procedures
In addition to treatments that can reduce the size of extra pockets of fat on the chest or build volume with muscle-contracting devices or injectable fillers, Dr. Kormeili offers treatments that can tighten loose or sagging skin.
Ultherapy
Ultherapy is a non-invasive, FDA-cleared treatment that uses ultrasound energy to lift and tighten the skin on the chest.
Fraxel Laser Therapy
Fraxel Laser Therapy can tighten sagging skin on the chest after weight loss or further contour the chest to show off the underlying muscles.
Thermage
Thermage Skin Tightening Treatment is another excellent choice for a non-invasive, FDA-cleared treatment. Thermage uses radiofrequency energy to tighten the sagging skin on the chest.
What is the Cost of Chest Sculpting in Santa Monica and Los Angeles?
The cost of your treatment plan will vary depending on the procedures you choose and your individual goals. During your consultation, Dr. Kormeili will develop your ideal method of chest sculpting and provide you with a detailed cost estimate.
At our practice, we believe that everyone deserves to love how they look. So call today to schedule a consultation and see how we can help you achieve your goals! Patients in Santa Monica and Los Angeles can call (310) 526-8301 or contact us for a returned call.
References