Decolletage Rejuvenation
Conveniently located to serve the areas of Santa Monica and Los Angeles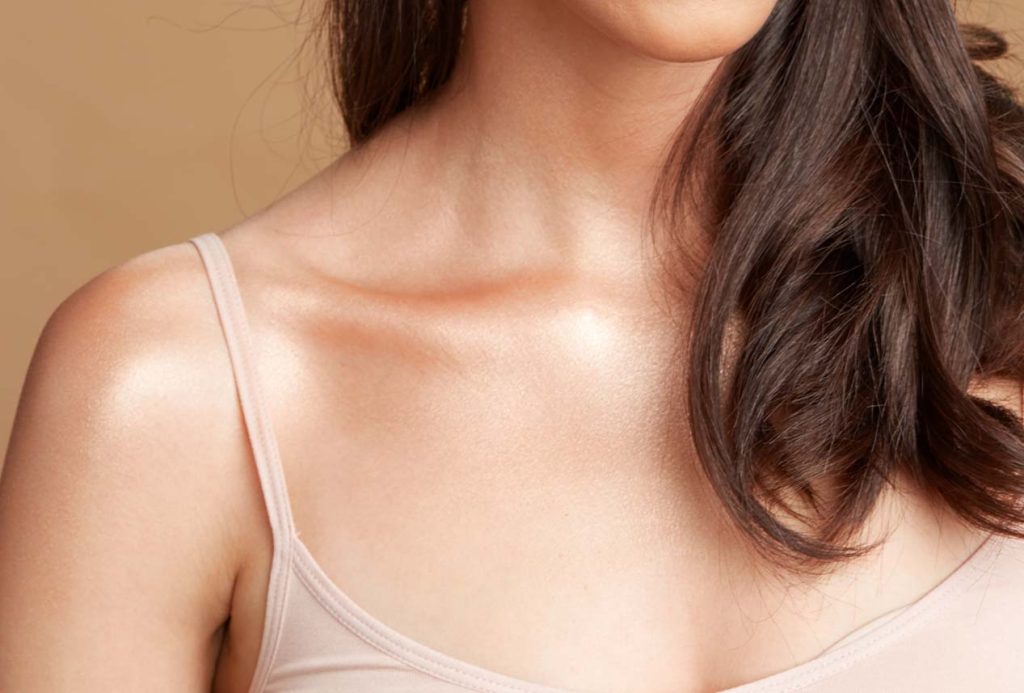 Decolletage rejuvenation is a minimally-invasive approach to restore the appearance of aging skin on the collarbone, neck, and chest. This dynamic process includes the latest dermatological advances to address wrinkles, lax skin, and discoloration. Decolletage rejuvenation transforms the skin and completes the picture; skincare doesn't stop at the jawline!
In 2006, Nora Ephron wrote the book I Feel Bad About My Neck…. Until recently, aesthetic dermatology was primarily focused on the face, leaving women to continue to worry about the tell-tale signs of time praying on the delicate skin of the decolletage. But, as Ephron mused, "Anything you think is wrong with your body at the age of thirty-five, you will be nostalgic for at the age of forty-five."
Enter board-certified dermatologist Dr. Tanya Kormeili, MD of Derm & Rejuvenation Institute. Dr. Kormeili, a professor and medical consultant, brings her extensive clinical expertise to deliver exceptional results; nostalgia for younger skin is a thing of the past under Dr. Kormeili's care. Instead, her enterprising approach includes skin tightening, brightening, and collagen-boosting treatments customized for her patient's skin and dermatologic goals.
Are you reading to stop feeling bad about your neck? Find out how decolletage rejuvenation can lead you to love your skin!
Patients in Santa Monica and the greater Los Angeles area can call (310) 526-8301 to schedule a personal consultation with Dr. Kormeili – who also serves Brentwood, Malibu, Culver City, Beverly Hills, and patients in all of California. If you wish to receive a call from us, fill out this form, and we will be in touch shortly. Are you interested in finding out more about Dr. Kormeili and her practice? Be sure to follow our blog!
The Anatomy of Aging
Proper skin care has far-reaching benefits to help us gracefully approach the later chapters of life. But even with the most outstanding care to hydrate and protect the skin against sun damage, aging is more than skin deep. A loss of subcutaneous fat, muscular banding, jowling, and a loss of collagen and elastin indicate an advanced age. Furthermore, intrinsic factors like hormonal changes and oxidative stress and extrinsic factors like photodamage, gravity, and lifestyle can attack the skin from all angles. Dr. Kormeili addresses these issues with a prudent approach.
Sun Damage – Crepey skin is usually associated with sun damage (photodamage). Repeated exposure to UV rays breaks down elastin, the fibers in the skin that contribute to skin elasticity. Failure to protect the skin from harmful UV rays can also lead to dark spots and uneven, blotchy skin.
Lax Skin – Firm, smooth skin is associated with youth because of peak collagen production levels. Collagen regeneration never stops but slows as we age, which leads to the deterioration of connective tissues that keep the epidermis tight and lifted.
Banding – The platysma is a large superficial muscle covering most of the front and sides of the neck from the chin to just below the collarbone. Banding and separation of the platysma is a natural effect of age due to anatomy changes; a double chin (submental fat) becomes more visible with age, causing the platysma to separate and appear as two vertical bands. [1]
Jowling – As collagen breaks down and gravity takes hold, the formation of jowls just below the jawline and chin can dramatically advance the appearance of an individual.
Lifestyle – Skin damage can also result from lifestyle factors including smoking, stress levels, a lack of sleep, a poor diet, and dehydration.
A Complex Approach to Youthful Skin
Dr. Kormeili understands the complex dermal anatomy of the decolletage, which allows her to use her equally vast knowledge of skincare techniques to address this delicate area. Let's look at her approach using peels, lasers, soundwaves, and injections to create a unique combination tailored to her patients' needs.
Chemical Peels
Chemical peels are especially effective for addressing the delicate skin of the chest. Peels have been around for a long time – the earliest evidence of peeling procedures dates back to 1550 BC in Egypt. [2] Chemical peels remove dead skin to ignite the regeneration process, creating a more even, tightened appearance. 
There are three primary levels to chemical peel treatments, they are:
Superficial peels – used to exfoliate epidermal layers without going beyond the basal or innermost layer of the epidermis.
Medium-depth – these peels penetrate the epidermis and reach the upper layers of the dermis down to the papillary dermis, which contains connective tissue and blood vessels that give nutrients to the epidermis.
Deep peels – by going deeper, these peels remove the papillary dermis and reach the reticular dermis. A vital structure of elastin and collagen fibers surrounds the reticular dermis.
Dr. Kormeili offers both superficial and medium-depth peels.
Superficial Peels
Patients with fine superficial lines and dark spots will radiate after a Beta Lift Peel. Using beta hydroxy acid (BHA), this superficial peel can resurface the skin to produce a brighter, smoother complexion. While a Beta Lift Peel uses citric acid, Dr. Kormeili also offers the Jessner Peel, which uses lactic and salicylic acid to gently reveal glowing skin by resurfacing and removing dead skin cells.
Medium-Depth Peels
Two medium-depth peels offered by Dr. Komeili are the TCA peel (trichloroacetic acid) and the VI Peel. These peels stimulate the skin to produce new collagen by activating the body's natural healing response. Depending on the concentration and length of treatment, TCA can reach as deep as the dermis. The peels address deeper lines, treat acne scarring, address skin pigmentation, and reduce the appearance of sunspots.
Fraxel Laser Therapy
Another approach to address aging skin on the chest is using fractional laser technology. Fraxel Laser Therapy is FDA-approved to stimulate collagen production in the skin and requires no downtime. By using fractional photothermolysis to address a small skin area, wavelengths of light can coagulate multiple columns of tissue deep into the dermis. [3] Over a few sessions (3-5), Fraxel laser therapy gradually reduces the appearance of wrinkles, pigmentation, and birthmarks and is one of the best treatments for acne scarring on the market.
Fraxel lasers differ from other light-based skin treatments because they do not target chromophores. These mid-infrared wavelengths of light are mainly absorbed by water in skin cells. [3]
Ultherapy
Ultherapy is a soundwave treatment approved by the FDA to address skin on a deeper level. Ultherapy is a non-surgical approach that effectively addresses lax skin, especially on the chest, neck, and jowls. Micro-focused ultrasound waves penetrate deep into the subdermal tissues, where many connective tissues are found. This profound stimulation results in tighter, lifted, and toned skin. Make sure to take a peek at this video of Dr. Kormeili treating her skin with Ultherapy!
Sculptra
At this point, it may be clear that the name of the skin game is collagen production, and Sculptra is no exception. This dermal filler replaces lost volume without creating a look that is "done" or unnatural. Sculptra is an FDA-approved poly-L-lactic acid filler to plump and contour the dermis, which makes it an excellent choice for the skin on the chest. Patients respond well to Sculptra because of the synthetic biocompatible, biodegradable, and absorbable factors. Furthermore, it will not induce an allergic reaction because of its artificial (non-animal) origin. The best part? Long after the filler breaks down, collagen regeneration continues [4], making it seem like you are aging backward.
Dr. Kormeili offers a range of dermal fillers to address your concerns.
V Beam Laser Treatment
Is V Beam, a pulsed dye laser (PDL) treatment for various skin abnormalities, safe? Ask the children with port wine stains for whom this treatment was originally designed. (Very!) [5] The V Beam directs focused energy to target cells with a red appearance, including those found in:
Acne marks
Broken capillaries
Rosacea
Port wine stains
Small benign tumors (angiomas)
Kybella
Kybella is an injectable treatment that creates stunning jawline and neck contours by dissolving fat, similar to how the stomach breaks down fat in food. Reduce the turkey neck, double chin, and jowls with this incredible advance in cosmetic dermatology. Kybella was created using purified synthetic deoxycholic acid (DC), which has a chemical structure identical to endogenous DC produced in the human intestine. [6]
CoolSculpting
Another approach to stubborn pockets of fat on the neck and jawline is CoolSculpting. By targeting lipids (fat), which freeze at a higher temperature than water, CoolSculpting can freeze fat until the cells die and are then naturally metabolized and expelled from the body. [7]
Botox
There are advances in treating neck wrinkles using Botox, the injectable known mainly for its incredible ability to erase wrinkles on the face. For example, using small aliquots of Botox on horizontal neck lines can create a younger, plumped neck. [1] Dr. Kormeili's advanced understanding of the anatomy of the neck makes it possible to address these wrinkles without compromising the other vital structures and functions contained within the neck.
While Botox can help relax the muscles of the chest, an approach that builds collagen (such as with Fraxel laser or Sculptra) or tightens skin (Ultherapy) is recommended.
Personal Consultation
Please schedule a consultation with Dr. Kormeili in the Derm & Rejuvenation Institute offices in beautiful Santa Monica, CA, so she can address your concerns and frustrations with an aging decolletage. After examining your skin and taking down your medical history, Dr. Kormeili will answer any questions you have regarding the different approaches she suggests. We will give you a list of preparation methods, including what to expect on the day of treatment and what your recovery will look like (if any!). Dr. Kormeili and her staff want you to feel empowered and excited as you begin your journey to smoother, tighter, and plumper skin! Schedule your appointment today; call (310) 526-8301.
What is the Cost of Skin Rejuvenation in Santa Monica?
The cost of your treatment(s) will be determined by which combination of therapies best addresses your unique skin. No matter your age or how advanced in the aging process your skin is, Dr. Kormeili can help! Contact us today.
References