Cellulite and Butt Dimples
Conveniently located to serve the areas of Santa Monica and Los Angeles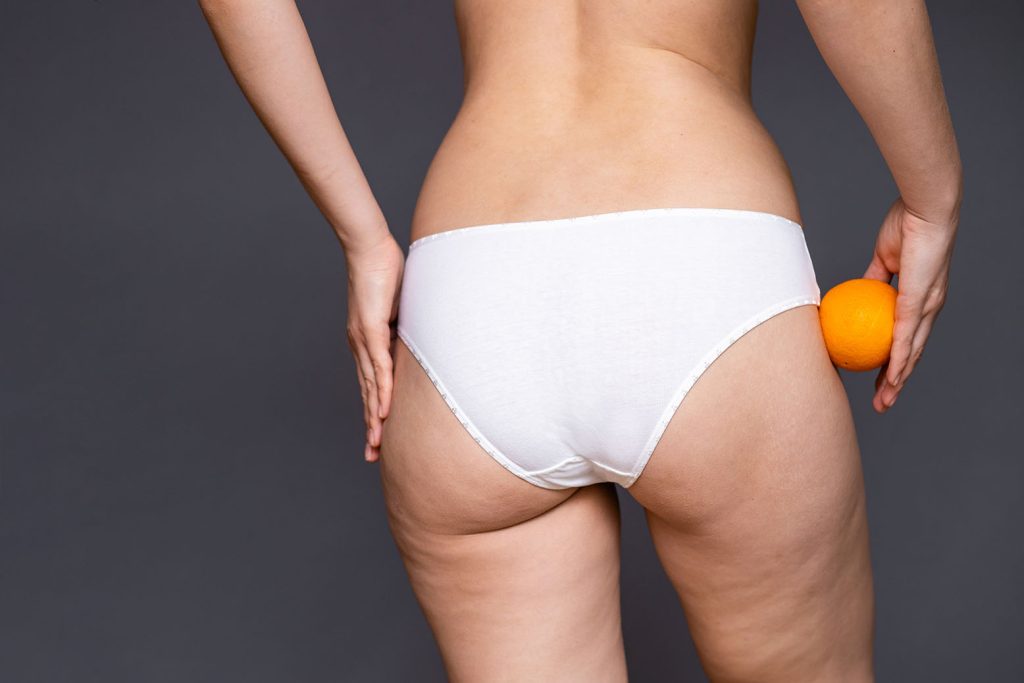 Cellulite and butt dimples are a common frustration: if you're a woman that wishes your thighs and butt had a smoother surface, you're not alone. It is estimated that 80 to 90% of women have some degree of dimpling. [1][2] That doesn't mean we have to like it! Worrying about lumpy, dimpled, and uneven skin texture can affect confidence and keep us preferring to keep covered. Even worse, studies have also found that diet and exercise don't prevent or resolve the formation of cellulite, and scientists are still unsure of its exact causes. However, Derm and Rejuvenation Institute is pleased to offer patients distressed by dimpling a first-rate experience with excellent results. Patients can choose various treatments, such as subcision, a surgical treatment that detaches fibrous bands from tissues underneath the skin. Or, patients can choose from multiple non-surgical alternatives, including Ultherapy, Sculptra, Radiesse, and CoolSculpting to create a silkier skin surface and improve the appearance of cellulite.
Before & After
Dr. Tanya Kormeili and her medical staff are happy to offer these treatments to residents in Santa Monica, Los Angeles, and beyond. To learn how to get rid of an annoying dimpled appearance, call the office for a consultation at (310) 526-8301. Or click on this link to schedule one online.
About Cellulite and Butt Dimples
Unfortunately, cellulite is a widespread concern among women of all age groups and races. While they are not a health concern, the mere presence of them in the thighs, buttocks, and legs can negatively impact self-esteem and have other psychological consequences. It can cause patients to alter their behavior, like wearing long pants in scorching heat or avoiding swimsuits or certain situations altogether.
What is Cellulite?
The dimples that characterize cellulite are the result of fibrous septae, narrow bands of connective tissue. These connect the underside of the dermis to other underlying tissue, and travel through the layer of subcutaneous fat on their way. Although we can be grateful that they perform the important function of holding our skin in place, they're also to blame for the appearance of cellulite. There are still many theories as to what changes cause the septae to thicken and shorten and increase the severity of cellulite. 
What Causes Cellulite?
Cellulite can increase in prominence from:
Increased levels of estrogen
Poor circulation
Smoking
Chronic inflammation
Dramatic weight changes
Being Caucasian
Genetics
Pregnancy
Patients will have their cases evaluated with the Nurnberger-Muller Grading Scale, a four-grade scale that measures the severity of cellulite on the skin.
Grades of Cellulite
Grade 0: No visible cellulite while standing or pinched.
Grade 1: Dimpling is seen when the skin is pinched.
Grade 2: Dimpling is seen when standing but not lying down.
Grade 3: Dimpling is seen when standing and lying down.[1]
How Can I  Fix My Cellulite and Butt Dimples?
Today, patients can seek treatment for cellulite using effective minimally invasive and non-invasive treatments that require less treatment time, and time spent recuperating at home. Depending on the severity of dimpling, patients can see a considerable improvement in as little as one session. However, most patients may need to be invited for additional sessions to achieve the desired aesthetic. Depending on their unique case and the severity of their cellulite, patients may benefit from one of these treatments.
Subcision
Subcision is a minimally invasive surgical treatment that dislodges fibrous bands from the subcutaneous fat under the skin. [1] After local anesthesia is administered, a slightly curved cannula is inserted into the subcutaneous tissue. Then, slight pressure is applied to advance the needle to help release fibrous septae from the underlying tissue. The process helps lift up the skin and triggers a healthy flow of collagen to repair and firm the skin.
Ultherapy
Ultherapy is a minimally invasive treatment that uses soundwave energy to tighten, tone, and lift the skin. Once a topical anesthetic is applied, an Ultherapy application is applied to the targeted skin area, where it will emit microfocused ultrasound (MFU) waves. [3] This energy penetrates the skin, increases collagen production, and reduces the sight of cellulite or dimples. As a result, patients will see a refreshed skin texture in a few sessions.
Coolsculpting
CoolSculpting is another non-surgical alternative that reduces fat. To achieve this, CoolSculpting utilizes cryolipolysis, or subjecting fat cells to cold temperatures.  First, a device is applied directly over the skin where it will gently pull the tissue into the applicator. Then, short bursts of freezing temperatures will pass through the skin and expose targeted fat cells to cold air, so they could eventually die. Gradually, the body will discard the damaged fat through the body naturally. Consequently, a much firmer and more slender appearance will come into view in a few weeks.
Sculptra
Sculptra is an injectable treatment that encourages collagen production and restores a firmer, volumized skin appearance. However, Sculptra is different from other similar injectables. The treatment contains poly-L-lactic acid (PLLA), a biostimulatory chemical that signals the skin to increase collagen. [4] 
Radiesse 
Radiesse is an injectable treatment that places calcium hydroxyapatite (CaHA), a biocompatible material, into an area requiring additional volume. Gradually, Radiesse initiates collagen production to fill in spaces of indentation. Patients will then begin to see beautiful, firmer skin within a few weeks.
The Joys of Silky Smooth Skin
Derm and Rejuvenation Institute patients can choose from an extensive collection of skin treatments that deliver smoother skin. Patients seeking treatment will see many benefits, including:
Elimination of cellulite and dimpling in the buttocks and thigh
Long-term benefits of younger-looking, resilient skin
Quick, minimally invasive treatment that effectively addresses concerns
Substantial improvement in a few weeks
Positive changes in self-confidence and wardrobe options
Who Should Seek Treatment
Patients fed up with indiscreet grooves and indentations on the buttocks and thighs are excellent candidates. To be approved for treatment, Dr. Kormeili recommends patients to:
Be in good, stable health
Have ideal skin tone and elasticity
Have a desire to improve skin quality with non-surgical methods
Have a desire to make practical yet visually appealing results
Personal Consultation with Dr. Kormeili
Dr. Tanya Kormeili is an internationally recognized dermatologist with a penchant for producing rewarding results and dedication to patient satisfaction. Over the years, we have performed thousands of procedures that have consistently met or exceeded their expectations. 
Your private consultation with Dr. Kormeili will discuss your concerns and determine which treatment suits you. During this discussion, you will be asked specific questions about your health and skincare routine. Then, she will make a medical recommendation based on her careful observation.
Patients can count on the friendly staff of Derm and Rejuvenation Institute in Santa Monica to create excellent outcomes. To see how you can benefit from these treatments, contact our office at (310) 526-8301 to schedule an initial consultation. 
Easy Preparation
Before we begin treatment, patients are asked to complete a few minor tasks before they come into the office. Dr. Kormeili will direct you to stop taking certain medications such as blood thinners and anti-inflammatories. So, please be sure to provide us with a current list of medicines you take, whether they are prescribed or ones you get from your local drug store.
Patients can get a better view of their anticipated results by visiting our Instagram page and reading through the kind words of past patients.
Minimal Recovery and Rewarding Results
Patients recovering from a subcision treatment will experience moderate discomfort and swelling for a few days, but this can be solved with either medication we provide or ones you can get over the counter. You should feel well enough to enjoy your routine again within a week.
Non-Surgical Patients
By comparison, non-surgical patients may feel minimal to moderate soreness that will calm down within a few days. You can quickly return to your activities after treatment ends, but you may want to wait a few days before engaging in high-impact movement.
Regardless of treatment, you can look forward to optimal results once the symptoms mentioned resolve.
Cost of Cellulite and Butt Dimple Treatments in Santa Monica
The unique cost of treating cellulite and butt dimples will depend on the special treatment chosen to address your concerns. We will discuss this matter during your initial meeting. You can also call ahead to receive a preliminary quote.
FAQ
Which treatment is best for eliminating cellulite and butt dimples?
A dermatologist or surgeon will determine which treatment best serves your needs during a consultation meeting. This discussion will allow a medical professional to evaluate your needs and hear how they affect you. Then, the doctor will devise a suitable treatment plan to meet your aesthetic goals.
Why do women have cellulite and men don't?
The dimpled appearance of cellulite is formed by fibrous septae, bands of connective tissue that connect the skin to the underlying tissues, and pass through the layer of subcutaneous fat in between. Men have septae that run parallel or diagonal to the surface of the skin, while women have septae that are perpendicular, and pass directly through the fat. As a result, when the septae thicken and contract in women, the skin is pulled inward, creating the indentations that characterize cellulite.
References
Click To Make An Appointment