Liquid Facelift
Conveniently located to serve the areas of Santa Monica and Los Angeles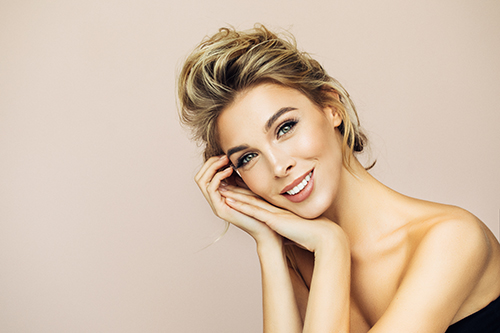 Hyaluronic acid (such as those found in Juvederm) is an important component of youthful, supple, elastic skin. It hydrates the skin by holding water, and acts as a cushion and lubricant to reduce damage to the skin. Hyaluronic acid is also involved with the transport of essential nutrients to the skin's viable cells. This ability of hyaluronic acid to bind to water is what helps provide long-lasting results (and to increase face volume naturally).
As a result of aging, our cells gradually lose the ability to produce hyaluronic acid. Sagging and hollowness begins the first signs of aging. Therefore, replacing the volume loss by a dermal filler such as Juvederm (or Juvederm Voluma) or other hylauronic acid fillers such as Restylane or Belotero, are great for a patient wanting a non surgical facelift for jowls, or any part of the aging face. Radiesse filler can also be used to create a strong non surgical facelift or liquid facelift.
Before & After
Liquid facelifts can be combined with Facial Contouring to create a very natural non surgical facelift.
Non surgical facelifts using Juvderm or other fillers are called liquid facelifts (or chemical facelifts) because volume is added to the face. Although called chemical facelift, the compounds used to do this liquid facelift by Dr. Tanya Kormeili are all natural products naturally found in the body.
Careful attention will be paid to your skin type and any additional skin conditions you may have during your consultation with Dr. Tanya Kormeili. All non-surgical facelift treatments should be designed individually for you based on a careful clinical exam and your desired values. Dr. Tanya Kormeili specializes in tailoring the skin treatments to the bone structure and property anatomy of the patient, as well as ethnic considerations of what is considered natural for the ethnic features of the patient.
FAQ
What causes jowls to form?
As we age there is a net loss of elastin and collagen (proteins in facial tissue). There is also a loss of bone and soft tissue structures that once kept the face pulled These losses together cause the sagging that is jowling. There are both surgical and nonsurgical treatments available to correct jowls.
What is the best treatment for jowls?
If you are not interested in surgery, there are nonsurgical options that help pull the skin, tighten the tissue and reduce the "fattiness of the jowls." Combinations of fillers, Coolsculpting of the neck and jaw and Ultherapy have produced pretty amazing results for our patients.
Which is the best Non-Surgical facelift?
The following facelift alternatives are outpatient, non-surgical procedures that offer the lifted, toned, and tightened effect without any surgery.
1. Coolsculpting of the saggy neck
2. Botox for the neck and the masseter muscles
3. Thermage
4. Ultherapy
5. Fillers for sculpting and lifting
What is a NonSurgical facial?
A non-surgical face lift, or facial rejuvenation is personalized to each patient. If you have loose skin, or excess fat or loss of volume, each problem has to be individually addressed by the various nonsurgical modalities. We often combine Utherapy, fillers and Coolsculpting to create natural lifted results.
How is aging skin treated?
There are a variety of changes in the aging skin. This includes wrinkles (both at rest and as the result of movement), loss of volume, change in color and texture as well as laxity. To get great results, each component of the aging skin must be addressed with its own solution based on your anatomy. Generally, Botox and Fraxel help with wrinkles, while Ultherapy and Coolsculpting help with tightening and slimming. Fillers produce volume and lifting, while Vbeam and IPL or Fraxel lasers help with color and texture restoration!
Does laser skin tightening really work?
Yes. To get great skin tightening you have to choose the right modalities of treatment. To tighten the skin of the cheeks you can use a laser like Fraxel.  If you are looking to tighten in an area against gravity like the lower face, you can use a device like Ultherapy as well.
What is the best NonSurgical treatment for wrinkles?
The Liquid Facelift or NonSurgical facelift involves using fillers along the bony structures such as the lateral cheeks, temples and jawline as well as the chin to sculpt and lift the face. The results can be very natural not to mention instant.
How much does a NonSurgical face lift cost?
Depending on the anatomical changes you are trying to correct it can be from $650 to $20,000. Some patients just need fillers while others benefit from lasers, Ulthera and Coolsculpting of the lower face.
Is laser skin tightening safe?
In the right hands, yes. There are risks to every procedure including scarring and discoloration. You have to make sure that the laser is the right treatment for your condition prior to taking on the risks.
Click To Make An Appointment