Neck Fullness
Conveniently located to serve the areas of Santa Monica and Los Angeles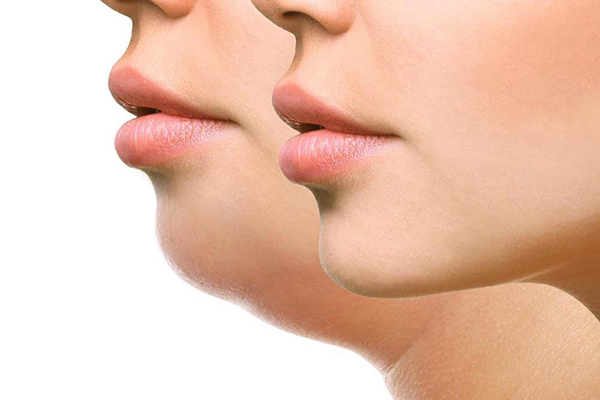 Understanding the Causes and Treatment Options
Neck fullness is a common complaint among many people, particularly as they age. It is often caused by excess fat or loose skin in the neck area, which can create the appearance of a double chin or turkey neck.  
The elongated neck is beautiful, a graceful extension of the body that draws the eye and conveys youth and vitality. It speaks of elegance, poise, and femininity, a symbol of timeless beauty celebrated in art and culture throughout the ages. For many individuals, neck fullness can lead them to seek treatment options from a skilled professional. 
At Derm & Rejuvenation Institute, we understand the impact of neck fullness on a person's confidence and self-esteem. That's why we offer a range of advanced treatment options designed to help you achieve a more toned and youthful-looking neck. Board-certified dermatologist, Dr. Tanya Kormeili, is an expert in the latest techniques for treating neck fullness. With her personalized approach to care, she can help you achieve the smooth and sculpted neck you desire to feel confident and beautiful inside and out. Patients in Santa Monica, and the greater Los Angeles area, can call (310) 526-8301 to get started with a consultation appointment. Patients can also reach out via our online form.
Follow the Derm & Rejuvenation Institute blog for more information on the latest in cosmetic improvement and dermatology.
Before & After
Click To Make An Appointment
More About Neck Fullness
Several factors can contribute to the development of neck fullness, including:
Genetics – Some people are simply predisposed to accumulating excess fat in the neck area due to their genetics.
Aging – As we age, our skin loses elasticity, leading to sagging and the appearance of neck fullness.
Weight Gain – Excess weight can also contribute to the development of neck fullness, as fat accumulation in the neck area is common in individuals who are overweight or obese.
Once you start to notice neck fullness when you look in the mirror, it might be all you can see. Patients may also notice sagging jowls, deepening wrinkles, or loose skin that creates the appearance of a double chin. These changes are a natural part of aging but can leave you less confident about your appearance. This lack of confidence can have a ripple effect on other areas of your life, from social interactions to dating to professional opportunities. That's why Dr. Kormeili believes in taking a holistic approach to patient care, focusing on the physical appearance and the emotional and psychological impact of cosmetic concerns.
What is the Best Treatment for Neck Fullness?
The most attractive angle for the neck is subjective and can vary from person to person. However, a neck that slopes gently from the jawline to the collarbone is considered more aesthetically pleasing. The angle of the neck should be in harmony with the rest of the face and body, creating a balanced and proportionate appearance. A smooth, tight neck contour with well-defined lines and minimal sagging or wrinkles is also typically considered attractive.
Dr. Kormeili achieves these ideals in her patients using the following treatment options:
Botox
Botox for neck rejuvenation can be a great option for patients seeking a non-surgical solution to address neck wrinkles and bands. It involves the injection of botulinum toxin type A into the neck muscles to relax them, therefore reducing the appearance of wrinkles and fine lines. In addition to its wrinkle-reducing effects, Botox can also address neck bands or cords, which are vertical lines that appear in the neck due to muscle contractions. By injecting Botox into the muscles responsible for these bands, the muscle contractions can be reduced or eliminated, resulting in a smoother and more youthful neck appearance.
Chin Augmentation
Chin augmentation can sometimes help with neck fullness by improving the balance and proportion of the lower face. When the chin is weak or recessed, it can create the appearance of a double chin or excess skin and fat in the neck area. By enhancing the projection and definition of the chin, chin augmentation can improve the overall contour of the lower face, helping to reduce the appearance of neck fullness. Additionally, chin augmentation can improve the appearance of jowls and sagging skin around the mouth and jawline, further enhancing the overall rejuvenation of the lower face.
CoolSculpting
Cryolipolysis uses controlled cooling to freeze and destroy fat cells in the submental area (double chin). One of the most popular methods of submental cryolipolysis is CoolSculpting, a non-invasive procedure that freezes fat cells, which are then eliminated from the body naturally over time. The treatment improves neck contours and has high rates of patient satisfaction. [1]
Facelift
A facelift addresses neck fullness by surgically tightening the skin and muscles of the face and neck. The procedure can remove excess fat and skin and improve the appearance of wrinkles and sagging in the neck area. A facelift can provide long-lasting results and is often recommended for patients with more advanced signs of aging or significant neck fullness. Recovery time can vary, but most patients can resume normal activities within a few weeks.
Kybella
Kybella injections can address neck fullness by targeting and destroying fat cells in the submental area. It uses a synthetic form of deoxycholic acid, a naturally occurring substance that helps break down and absorb fat. [2] Results can be seen gradually over several weeks as the body processes the destroyed fat cells.
Fraxel Laser Therapy
Fraxel Laser Therapy is a non-invasive skin resurfacing treatment that uses a laser to target specific areas of the skin. The treatment can improve the appearance of neck fullness and sagging skin by stimulating collagen production and tightening the skin when used on the neck area. [3] The laser energy creates micro-injuries in the skin, which triggers the body's natural healing process and promotes the growth of new collagen fibers. Over time, this results in smoother, firmer, and more youthful-looking skin.
Thermage Skin Tightening
Thermage is a non-invasive treatment that uses radiofrequency (RF) technology to heat deep layers of the skin, stimulating collagen production and promoting skin tightening.
Thermage can improve the appearance of neck fullness and sagging skin because when the radiofrequency energy heats the collagen fibers, it causes them to contract and tighten, which results in smooth firmness.
Thread Lift
A thread lift may be a suitable option for some cases of neck fullness, particularly if the issue is mild to moderate skin laxity and sagging in the neck area. A thread lift is a minimally invasive procedure that involves using biodegradable threads to lift and tighten the skin, creating a more youthful and rejuvenated appearance. During the procedure, the threads are inserted into the skin using a fine needle and then pulled taut, creating a lifting effect.
Ultherapy
Ultherapy uses ultrasound technology to stimulate collagen production and tighten skin. It is particularly effective for patients with mild to moderate neck sagging or loose skin. Ultherapy can target specific neck areas, such as the jowls or double chin, and results can be seen gradually over several months as the body produces new collagen. The treatment is quick, with little to no downtime, making it a popular option for those who want to address neck fullness without surgery.
What are the Benefits of Addressing Neck Fullness?
Addressing neck fullness can provide a range of benefits beyond just cosmetic improvement. For some patients, the physical and emotional burden of neck fullness can be significant. They may find that they cannot enjoy all life offers while the thought of their appearance consumes their thoughts.
By addressing neck fullness through various treatment options such as surgery, injectables, or non-invasive procedures, patients can experience a boost in their self-confidence and overall quality of life. They may feel more comfortable in social situations, enjoy better relationships, and feel more at ease in their skin.
Addressing neck fullness can have a transformative effect on a patient's life, both physically and emotionally. Consulting with a qualified dermatologist can help patients understand their treatment options and achieve incredible results.
Candidates
The ideal candidate for cosmetic treatment for neck fullness would be someone who
Is in good overall health
Has realistic expectations about the outcome of the treatment
Has excess fat or loose skin in the neck area, causing fullness or sagging
Has developed a double chin, jowls, or other signs of aging in the neck area
The patient may have tried non-surgical options such as diet and exercise to address the issue but has not seen significant improvement. To be cleared for most treatments, patients should not have any medical conditions that could increase the risk of complications or interfere with the healing process after the procedure.
Personal Consultation
The decision to undergo cosmetic treatment for neck fullness should be made in consultation with a qualified professional who can assess the individual's needs and recommend the most appropriate treatment options.
During a consultation with Dr. Kormeili, she will first evaluate your overall health, medical history, and specific concerns related to your neck. She may also take photographs, perform physical examinations, and recommend additional tests to help determine the best course of treatment for you.
Dr. Kormeili will discuss each treatment option's benefits, risks, and potential outcomes and help you make an informed decision that aligns with your goals and expectations. She will also provide detailed pre- and post-operative instructions to ensure a safe and successful outcome.
What is the Cost of Treating Neck Fullness in Santa Monica, CA?
At Derm & Rejuvenation Institute, we prioritize patient satisfaction and safety, and our team is committed to providing personalized care and support throughout your treatment journey. If you're considering cosmetic treatment for neck fullness, contact us today to schedule a consultation with Dr. Kormeili and learn more about the cost of treatment. Call (310) 526-8301 to make your appointment now!
References
Kilmer SL, Burns AJ, Zelickson BD. Safety and efficacy of cryolipolysis for non‐invasive reduction of submental fat. Lasers in Surgery and Medicine. 2015;48(1):3-13. https://doi.org/10.1002/lsm.22440
Liu M, Chesnut C, Lask G. Overview of Kybella (Deoxycholic Acid Injection) as a Fat Resorption Product for Submental Fat. Facial plastic surgery: FPS. 2019;35(3):274-277. https://doi.org/10.1055/s-0039-1688943
Mulholland RS. Radio Frequency Energy for Non-invasive and Minimally Invasive Skin Tightening. Clinics in Plastic Surgery. 2011;38(3):437-448. https://doi.org/10.1016/j.cps.2011.05.003