Jawline Contouring
Conveniently located to serve the areas of Santa Monica and Los Angeles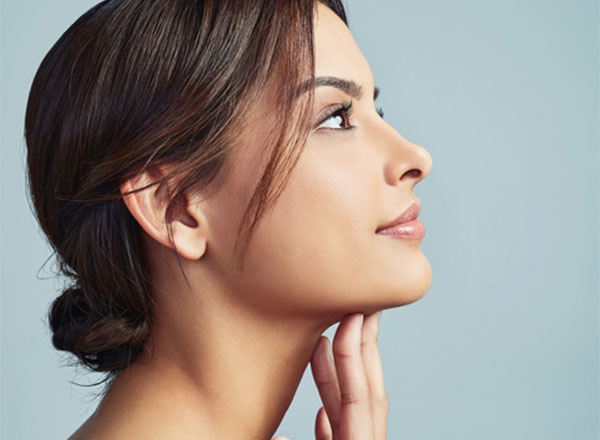 As we age, the mandible bone (jawbone) gets smaller, while the chin recedes back into the face. This "weakening of the jawline" makes the demarcation between the face and the neck less obvious. As such, we look more "saggy" and aged in appearance.
Factors such as extensive dental work (including braces!) can contribute to accelerated bone loss. In fact, as we age, we tend to lose bone mass all over our face, not just in our extremities. If you compare a CT Scan of your face at the age of 20 to one of yourself at the age of 80, it will be obvious that an incredible amount of soft tissue and bone has been lost.
This loss can contribute to laxity and aged in appearance, making the jawline not as sharp and well-defined as the younger years. Luckily, there are non-surgical solutions, as well as surgical ones, to help alleviate this concern.
Jawline contouring is an area of expertise for Dr. Kormeili. Jawline contouring is a complex subject because it is the intersection of the face and the neck!
As such we might use various modalities alone, or in combination to create a sharp well-defined jawline:
Jawline contouring requires precision and knowledge of facial aesthetic features. Often in combination we create the best results.
Very often, as part of jawline contouring, we also enhance the other areas of the face that cause aging, loss of volume or sagging. Other areas of facial contouring can involve enhancement of the cheekbones, or the chin that together help create a more elongated and slimmer facial features. Threadlift in combination with dermal fillers can be particularly a great strategy to address both loss of volume as well as laxity without needing surgery.
During your consultation, Dr. Kormeili will be evaluating all your aesthetic concerns and discussing your particular anatomical changes with aging. Together, a precise treatment plan will be created to address all your concerns, and begin your transformation!
We look forward to seeing you at our Santa Monica office and helping you achieve your desired outcome. Make your appointment today!
Before & After
Click To Make An Appointment