Jawline Contouring
Conveniently located to serve the areas of Santa Monica and Los Angeles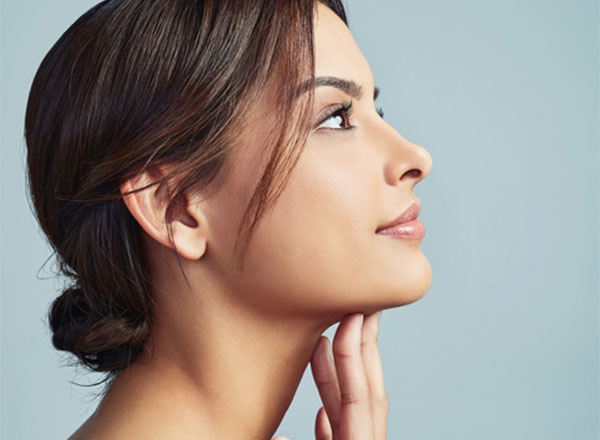 Jawline contouring is a complex and multi-faceted area of expertise because it involves the intersection of the face and the neck. This cosmetic improvement aims to enhance the shape and structure of the jawline to create a more defined and aesthetically pleasing appearance. The jawline is a critical component of overall facial harmony and balance, and subtle changes in shape and structure can significantly affect a person's appearance. The jawline is also an essential aspect of the aging process, as the loss of bone mass and soft tissue can lead to a less defined and sagging jawline. Fortunately, both non-surgical and surgical solutions are available to address these concerns.
Dr. Tanya Kormeili of Derm & Rejuvenation Institute in Santa Monica and Los Angeles is an expert in jawline contouring. She deeply understands the anatomical structures of the face and neck and uses her expertise to develop personalized treatment plans that address each patient's unique concerns. Dr. Kormeili employs the latest techniques and technologies to achieve natural-looking and long-lasting results. Her knowledge and experience make her a trusted and sought-after practitioner in this field who is ready to help you, too! If you want to find out more and meet with Dr. Kormeili for a consultation appointment, call (310) 526-8301 or complete this form.Our blog allows patients a look at some of the most popular cosmetic procedures before their appointment – take a peek!
Before & After
All About Jawline Contouring
Creating a well-defined and sharp jawline is a popular aesthetic goal. There are various modalities Dr. Kormeili uses alone or in combination to achieve this desired look.
Coolsculpting
This non-invasive treatment uses freezing technology to target and eliminate fat cells in the targeted area. Coolsculpting (cryolipolysis) can contour the jawline by removing excess fat under the chin and the neck area minimizing or eliminating the "double chin" that plagues so many.
Submental cryolipolysis reduces fat by 2.0mm on average, with 77% of patients seeing a visible fat reduction. [1] The procedure has high patient satisfaction rates, and most patients find the procedure comfortable, with no serious side effects.
Ultherapy
Ultherapy is a non-surgical treatment that uses ultrasound technology to stimulate collagen production in the skin. This treatment can tighten and lift the skin in the jawline area, resulting in a more youthful and contoured appearance.
A study on ultherapy showed that 93% of patients had improved midface and lower face after six months, with a satisfaction rate of 85%, and these results were sustained after a year. [2] 
Dermal Fillers
Dermal fillers are a popular non-surgical option for jawline sculpting and contouring. All dermal fillers mentioned, whether hyaluronic or non-hyaluronic acid derived, are eventually broken down by the body's natural processes. Some of the most commonly used hyaluronic acid fillers include:
Juvederm XC – This filler is known for its smooth consistency and can be used to sculpt and contour the jawline. It is also a good choice for restoring volume to the cheeks and other areas of the face.
Restylane Lyft – This filler provides structure and support, making it a great option for creating a more defined jawline. It can also be used to lift and contour the cheeks.
Restylane Refyne – This filler has a unique cross-linking technology that allows it to adapt to the movement of the face, making it a good choice for areas like the jawline that require flexibility.
Restylane Defyne – This filler also uses cross-linking technology but is designed to provide more support and structure than Refyne. It can be used to create a more defined jawline and to smooth out deeper lines and wrinkles.
Belotero Balance – This filler is ideal for more superficial injections and can smooth out fine lines and wrinkles around the mouth and chin.
Non-hyaluronic acid fillers like Radiesse and Sculptra can also be used for jawline sculpting and contouring. These fillers provide more structural support but may not be as precise as hyaluronic acid fillers. 
Hyaluronic acid fillers typically last 6-12 months, depending on the specific filler and the injection area. Non-hyaluronic acid fillers like Radiesse and Sculptra can last up to two years or more. [3] 
PDO Thread Lift
Using specialized threads, Dr. Kormeili can lift and tighten the skin in the jawline area. This technique can provide a subtle lift and contour to the jawline, improving its definition and appearance.
The duration of the results of threadlifts varies from 1 to 9 years, depending on various factors such as patient age and health, skin laxity, thickness, and facial volume. Patients with thicker skin and sufficient facial volume tend to have longer-lasting results of 3 to 4 years. Older patients with poor elasticity and severe sagging may experience results for only a year or two. [4]
The Aging Face
As we age, our jawbone (mandible bone) tends to shrink, causing the chin to move back into the face. This results in a less defined jawline, which makes it harder to see where the face ends and the neck begins. As a result, we look more aged and saggy in appearance.
Additionally, as we age, we lose bone mass throughout our face, not just in our limbs. If you were to compare a CT scan of your face at 20 to one at 80, you would notice a significant amount of bone and soft tissue loss. [5] This loss can lead to a less defined jawline and a more aged appearance.
Jawline contouring can help address these issues by tightening and lifting the skin in the lower face and neck, creating a more youthful and rejuvenated appearance. Additionally, jawline contouring can enhance the overall facial structure, providing a more defined, elegant, or masculine look depending on the patient's goals.
What are the Benefits of Jawline Contouring?
The benefits of jawline contouring include:
A more defined and prominent jawline
Reversal of signs of aging
Improved self-confidence
Non-surgical options
Customizable treatment
By working closely with Dr. Kormeili, you can create a jawline that better suits your facial features, which can help you achieve a more balanced and attractive appearance.
Candidates for Jawline Contouring
Candidates for jawline contouring may include individuals bothered by a weak or undefined jawline, signs of aging, or loss of volume in the face. They should have good overall health and realistic expectations for the procedure's outcome. Additionally, they may have tried non-invasive methods such as makeup, skincare, or weight loss but have not achieved the desired results.
For men, a weak or undefined jawline can be a source of frustration, as it can create an unbalanced or less masculine appearance. This may be due to
Genetics
Weight loss
The natural aging process
Aging can affect women differently, particularly in the lower face and neck region. As women age, the skin and soft tissues lose elasticity, leading to sagging and wrinkles in the jowls and neck area. This can create a less youthful and less defined appearance.
Personal Consultation
At your consultation with Dr. Kormeili, she will carefully evaluate your aesthetic concerns and discuss the anatomical changes that occur with aging. By taking the time to understand your unique goals and concerns, she will work with you to develop a personalized treatment plan that will help address your specific needs and achieve your desired transformation.
Whether you're interested in
Enhancing your jawline
Reducing wrinkles
Addressing other signs of aging
Dr. Kormeili will use her expertise to help you look your best. By working collaboratively with her, you can be confident that you'll receive a treatment plan tailored to your needs and goals, helping you look incredible! Call (310) 526-8301 today.
Preparation
There are some general preparations that you should keep in mind before undergoing jawline contouring or any of the specific treatments we have discussed. These preparations can vary depending on the type of treatment, but some common ones include:
Avoiding blood-thinning medications or supplements like aspirin, ibuprofen, and fish oil for several days before treatment to reduce the risk of bruising.
Staying hydrated in the days leading up to treatment improves skin health and reduces the risk of complications.
Avoiding alcohol consumption for a few days before treatment to reduce the risk of bruising and swelling.
Not applying any skincare products to the treatment area on the day of treatment to reduce the risk of infection or interference with the treatment.
Arranging for someone to drive you home after the treatment, particularly if you have received any sedation.
It's important to follow any specific instructions provided by Dr. Kormeili for your individual treatment plan to ensure you enjoy a seamless and relaxed procedure.
The Procedure
Dermal Fillers
Dr. Kormeili will clean the treatment area and may apply a topical anesthetic. She will inject the filler into the skin using a fine needle at specific points. She may massage the area to ensure an even distribution of the filler. The procedure typically takes 30 minutes to an hour, depending on the number of areas being treated.
Ultherapy
Dr. Kormeili will clean the treatment area and apply a gel to help the ultrasound waves penetrate the skin. She will then use the Ultherapy device to deliver focused ultrasound energy to the deep layers of the skin, stimulating collagen production. The procedure takes 30 to 90 minutes.
PDO Thread Lifts
Dr. Kormeili will clean the treatment area and may apply a local anesthetic. She will insert the PDO threads under the skin using a fine needle to lift and tighten the tissues. The procedure takes about an hour.
CoolSculpting
Dr. Kormeili will apply a gel pad and applicator to the treatment area. The device will deliver controlled cooling to freeze and destroy fat cells. The treatment takes about an hour per area, and you may need multiple treatments to achieve your desired results.
Recovery
The recovery time for dermal fillers is minimal. Most patients can resume normal activities immediately after treatment, although some may experience mild swelling, redness, or bruising at the injection site. These side effects usually subside within a few days.
There is little to no downtime associated with Ultherapy. Patients may experience slight redness, swelling, or tingling sensations immediately following the procedure, but these side effects usually subside within a few hours.
Patients can expect mild swelling, bruising, or soreness after thread lift, although these side effects usually subside within a few days. Patients are advised to avoid strenuous activities for a week after the procedure and to avoid sleeping on their face for the first few nights.
CoolSculpting is a non-invasive procedure, so there is no downtime required. Some patients may experience redness, swelling, or numbness in the treated area immediately following the procedure, but these side effects usually subside within a few days. Patients are advised to drink plenty of water and avoid alcohol and strenuous exercise for a few days after the procedure.
What are the Results of Jawline Contouring?
With jawline contouring, you can achieve a more defined and sculpted jawline, bringing out the natural angles of your face. Dermal fillers can restore volume loss, soften wrinkles, and enhance the overall appearance of your facial features. PDO thread lifts can provide an immediate lift and tightening effect on your skin while promoting long-term collagen production for continued improvement. And with CoolSculpting, you can target and eliminate stubborn pockets of fat, revealing a more sleek and contoured facial profile.
What is the Cost of Jawline Contouring in Los Angeles?
Dr. Kormeili looks forward to creating a customized treatment plan for you that meets your goals and fits within your budget. The cost of each treatment will vary based on the specific procedure, the amount of product needed, and the number of treatment sessions required. Contact Derm & Rejuvenation Institute at (310) 526-8301 today!
Click To Make An Appointment
References