Why Patients Choose Dr. Zandifar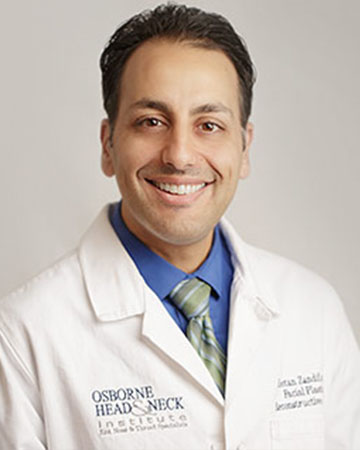 Why should you choose Dr. Hootan Zandifar for your aesthetic needs? The answer is clear: a distinguished track record of double board certification and extensive training within esteemed organizations like the American Academy of Facial Plastic and Reconstructive Surgery (AAFPRS). Dr. Zandifar's commitment to providing the highest standard of care is unwavering.
Here are the compelling reasons why discerning patients like you trust Dr. Zandifar:
Unparalleled Expertise: Dr. Zandifar's double board certification in both Facial Plastic & Reconstructive Surgery and Otolaryngology/Head & Neck Surgery signifies a level of expertise that few can match. His dedication to continuous learning and improvement ensures that you receive nothing less than the best.
A Commitment to Natural Beauty: Dr. Zandifar's focus on delivering natural-looking results sets him apart. He understands that enhancing your beauty should be subtle, enhancing your unique features rather than altering them. Your satisfaction and confidence are his top priorities.
Compassionate Care: Dr. Zandifar's compassionate approach to patient care ensures that you feel supported and valued throughout your journey. He listens to your concerns, answers your questions, and tailors his treatments to your individual needs.
Patient Education: Dr. Zandifar believes in empowering his patients with knowledge. He takes the time to educate you about your options, helping you make informed decisions about your aesthetic goals.
Scientific Recognition: His work has been recognized and published in esteemed scientific journals like The Laryngoscope, Journal of Pediatric Otolaryngology, Journal of Pediatric Otorhinolaryngology, and Journal of Investigative Medicine. This academic recognition demonstrates his commitment to the highest standards of medical practice.
National Presentations: Dr. Zandifar's contributions are not limited to publications; he has also presented at prestigious gatherings such as the Annual American Academy of Facial Plastic and Reconstructive Meeting, Combined Spring Otolaryngological Meeting, and Triological Meeting.
Esteemed Fellowships: He is a Fellow of the American Academy of Facial Plastic and Reconstructive Surgery and the American College of Surgeons, solidifying his status among the elite in the field.
Awards and Honors: Dr. Zandifar has received numerous accolades, including being recognized as a Super Doctor in Southern California, earning a spot on the Southern California Rising Star℠ List, and being named a Top Plastic Surgeon in Beverly Hills, CA by the International Association of Healthcare Professionals. His exceptional work has also been featured in The Leading Physicians of The World publication and Plastic Surgery Practice's Best of 2012 Plastic and Cosmetic Surgeons.
Acknowledged Excellence in Otolaryngology: Dr. Zandifar's commitment to excellence earned him the Walter P. Work, M.D. Award for outstanding performance in Otolaryngology/Head and Neck Surgery. His dedication is further evidenced by his Teaching Award from the Department of Dermatology at Indiana University.
Media Recognition: Dr. Zandifar's expertise has not gone unnoticed in the media. He has shared his insights on a range of topics, including the changing beauty landscape during quarantine and high-profile makeovers. His media appearances highlight his standing as a trusted voice in the field.
Make the right decision today and experience the unmatched excellence that has made him a celebrated name in Beverly Hills and Santa Monica. Your facial plastics transformation begins with Dr. Zandifar – your trusted partner in beauty.
Top of Form