PRP for Hair Loss
Conveniently located to serve the areas of Santa Monica and Los Angeles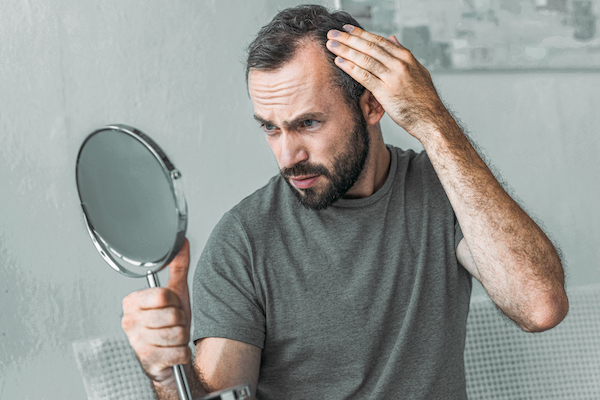 PRP hair restoration is a non-surgical cosmetic treatment that uses platelet-rich plasma extracted directly from your blood to naturally regenerate hair growth. PRP for hair loss stimulates new cell growth, tissue regeneration, and improves follicular health, helping your body to regrow your hair without transplants or chemicals.
Derm & Rejuvenation Institute in Santa Monica, CA offers PRP hair restoration to those who suffer from hair loss or thinning hair and want a natural, surgery-free remedy. Dr. Tanya Kormeili was named a '2022 Southern California Super Doctor' so schedule a personal consultation by calling (310) 526-8301 today!
Before and After Photos
About PRP
PRP Hair Restoration has been a key advancement in the treatment of hair loss. PRP (Platelet Rich Plasma) is isolated from the patient's own blood sample, and can be used for a variety of therapeutic purposes. This is basically an "elixir" of enriched proteins, growth factors, and restorative components that can be used for rejuvenation and healing. Once your PRP is prepared from your blood, we used a very small needle to inject it into the treatment area. During PRP treatments for hair restoration, the PRP is injected into the scalp to boost the health of the hair follicles. And, since it is derived from your own body, PRP is natural and safe.
About Hair and Hair Loss
Hair grows from our follicles in a cycle with three phases:
The anagen, or growth phase
The catagen, or transition phase, as the hair bulb begins to separate from base of the follicle
The telogen phase, when the hair has finished separating from the papilla and falls out, and the follicle enters a resting phase.
90% of hair is usually in the anagen phase, and, depending on the hair's location on your body, the growth phase can last several months to several years. That's why your eyebrows are shorter than the hair on your head, and why you might lose an eyelash or two, but don't lose them all at once! After the hair naturally sheds during the telogen phase, new cells form within the follicle to produce a new hair as the growth cycle restarts. When the follicle does not produce new growth to replace the missing hair, patients experience hair loss. [1]
There are many potential causes of hair loss, including medical conditions, genetics, medications, and physical or emotional stress. If you notice unusual hair loss of any kind, it is important to see your primary care provider or a dermatologist, to determine the cause and appropriate treatment. Hair loss can be devastating, but today there are more resources than ever to help patients with coping and restoring their hair.
The most common form of hair loss is androgenic alopecia, also known as pattern baldness. In men, this kind of hair loss usually begins above the temples and the hairline recedes, often progressing to baldness. In women, pattern hair loss begins with a gradual thinning at the part line, followed by increasingly diffuse hair loss radiating from the top of the head.
Treatments for hair loss, like Rogaine (minoxidil), increase blood flow, so that follicles are nourished and the anagen phase is extended. The prescription drug Propecia (finasteride) stops hair loss by limiting the production of the male hormone androgen, which is what stops hair growth in androgenic alopecia. Unfortunately, this drug is only for men, and can have devastating consequences for sexual performance.
However, PRP has no side effects. After injection, the growth factors promote the growth of new vascular structures around the hair follicles, so that the scalp is nourished, hair is healthier, and the growth phase lasts longer. [2]
Benefits of PRP for Hair Loss
Non-surgical hair restoration treatment
Uses your body's natural healing and regenerative abilities to regrow your hair
Regrowth follows your natural hair pattern
No scarring
No risk of allergic reaction since PRP is naturally found in the body
Can be utilized anywhere that you want hair regeneration
Helps to prevent future hair loss or thinning
Treatment is undetectable
Candidates
PRP hair restoration is a good hair loss solution for patients who suffer from male or female pattern hair loss or hair loss due to other causes such as stress or medications. PRP's efficacy depends on the quality of your blood, and your platelets' ability to stimulate new, healthy cells. As a result, patients who have certain illnesses that impacts their blood or cell growth may not be candidates for treatment with PRP.
PRP treatment is not recommended for patients with:
Platelet abnormalities or blood disorder
Infection at the site of the procedure
Recent fever or illness
Recent use of systemic corticosteroids (prednisone)
A history of cancer of any type
Chronic liver disease
Active hepatitis
Anticoagulation or prescribed blood thinners. Examples of such treatments include warfarin, clopidogrel, Pradaxa, Xarelto, Eliquis, Savayasa, and NSAIDs.
Blood thinners and certain other medications and supplements can also impact your eligibility for treatment with PRP. Medications that interfere with the inflammatory response may need to be stopped, if possible. Make sure to check with your doctor before stopping any of your prescriptions.
Personal Consultation
During your personal consultation with Dr. Kormeili, she will listen to your hair loss concerns, perform a medical examination, and take note of your health history. A good history and medical exam are essential in determining the right solutions. If it is determined that PRP restoration for hair loss is the right treatment for you, an individualized treatment plan will be created to address your specific concerns. Patients should have realistic expectations; results will appear slowly as your body is naturally creating hair regrowth.
Start your hair regrowth process with a phone call to Derm & Rejuvenation Institute at (310) 526-8301. Board-certified dermatologist Dr. Tanya Kormeili is excited to help you achieve your aesthetic goals.
What is a PRP Treatment for Hair Loss Like?
After you arrive for your treatment, your blood will be drawn from your arm as it normally would for a blood test. The blood sample will then be placed in a device called a centrifuge. This device uses centrifugal force to separate the components of the blood, isolating the pure platelet-rich plasma. The platelet-rich plasma is collected into a syringe and is then ready for injection in the desired locations.
Since this treatment involves injections, patients can opt for a topical numbing cream so that they can remain comfortable. The PRP will be injected with a thin needle in small doses evenly across the locations of hair loss. The treatment typically takes less than an hour and then you are free to go about your day. You'll return for additional sessions as discussed with Dr. Kormeili in order to ensure the best results.
Recovery
No recovery time is needed after PRP hair restoration treatment. You can resume daily activities immediately after, including washing your hair. Please stay out of direct sunlight for a few days as your injection sites heal. Swelling is normal for a couple of days after treatment and strenuous activities should not be performed until it subsides.
Results
As the PRP takes effect and promotes the vitality of your follicles, hair regrowth will begin. Results will take as long as it naturally takes your body to grow your hair. This may take several months, but with regular sessions, you'll be able to enjoy fuller hair and more noticeable growth in roughly six months.
Corresponding & Complementary Procedures
Interested in using the power of PRP to improve your skin? A Vampire Facial, also referred to as Blood Facial, uses PRP and microneedling to generate tissue repair and stimulate collagen production. Rich in growth factors, PRP has the ability to smooth wrinkles, treat acne scars, and diminish discoloration for a vibrant youthful appearance you attain from the powers of your own body! Studies prove that skin becomes significantly firmer and more elastic in areas treated with PRP. [3]
And while you are at it, make sure to read our blog to learn about some other amazing cosmetic procedures we offer.
How Much Does PRP Hair Treatment Cost in Santa Monica?
The price of PRP hair restoration for hair loss will depend on the size of the treatment area and the number of sessions required to reach your individual goal. A one-on-one consultation with Dr. Kormeili will allow her to provide an individualized quote based on your specific treatment plan. Why wait? Contact Santa Monica's Derm & Rejuvenation Institute today!
FAQ
What causes your hair to fall out?
• Hormonal changes
• Medications
• Stress
• Poor Nutrition
• Genetics
What else can PRP be used for?
PRP can be used to heal and regenerate tissue in other areas of your body. In addition to hair regrowth, it is often used for facial rejuvenation and for healing injuries and wounds as it activates stem cells. 
Can both women and men receive PRP hair treatment?
PRP hair restoration treatment can be performed on anyone who is experiencing hair loss or hair thinning on the scalp or of facial hair as long as they meet the criteria for a good candidate. 
References
National Library of Medicine. What is the structure of hair and how does it grow? InformedHealth. Published August 29, 2019. Accessed September 7, 2022. https://www.ncbi.nlm.nih.gov/books/NBK546248/
Gentile P, Garcovich S, Bielli A, Scioli MG, Orlandi A, Cervelli V. The Effect of Platelet-Rich Plasma in Hair Regrowth: A Randomized Placebo-Controlled Trial. Stem Cells Translational Medicine. 2015;4(11):1317-1323. doi:10.5966/sctm.2015-0107
Aust M, Pototschnig H, Jamchi S, Busch KH. Platelet-rich Plasma for Skin Rejuvenation and Treatment of Actinic Elastosis in the Lower Eyelid Area. Cureus. 2018;10(7):e2999. Published 2018 Jul 18. doi:10.7759/cureus.2999