Cysts
Conveniently located to serve the areas of Santa Monica and Los Angeles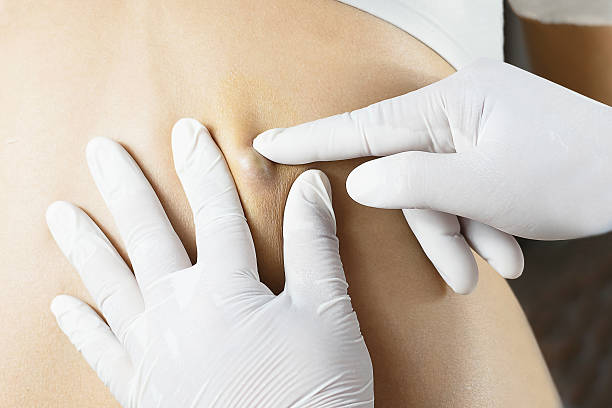 A cyst (whether a pilar cyst, sebaceous cyst or an epidermal epidermoid cyst) is a closed, balloon-like structure that contains keratin and skin materials inside that sac. Despite the common "cyst acne" nomenclature, cystic acne does not have a sac! There are so many articles about "cyst popping" but they cannot be popped. Cysts (aka cyst acne) are deep inside the skin and traumatizing them can lead to scarring. Cysts are common, can vary in size, and can occur anywhere in the body, but most affect the face, scalp, neck, and trunk.
Pilar cysts usually occur on the scalp while epidermal cysts can occur anywhere and are commonly referred to as sebaceous cysts. Epidermoid cysts are unique in that they involve structures we had as embryos. All are benign and have no to little chance of malignancy, though cancers have been reported inside cysts in the past.
Although cysts are usually asymptomatic, patients are often bothered by the foul-smelling "cheese like" material that can extrude from the cysts, hence attempted "cyst popping" is so prevalent among patients. Occasionally, cysts can become inflamed or infected, resulting in pain and discomfort. For this reason, many patients elect to have cysts removed prior to any complications.
In a cyst, the proliferation of the top of the skin (called epidermis), extends into a sac-like structure down into the dermis, the deeper part of the skin. They actually have a wall around them, and that needs to be removed surgically. If this sac is not removed completely, as in when there is a lot of inflammation, it can refill with skin material, and result in another cyst.
Cysts can be treated with injections as well as antibiotics. Once the inflammation has subsided, they can be treated surgically, to remove the cyst sac completely.
Dr. Tanya Kormeili specializes in tailoring your Cysts treatment to your ethnic skin type, proper racial features and anatomical ratios, bones structure, and skin type to create the most natural results.
Click To Make An Appointment